April 1, 2013
Zolton's Facebook Pranks on Mail Order Catalog Companies
I originally wrote this piece for MediaShower.com, for use on the late, great comedy site ZuG.com. Text and images published here with permission.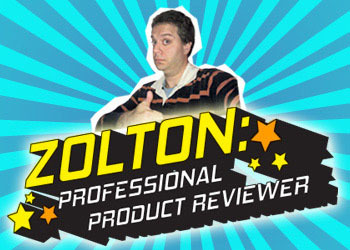 'Tis the holiday season, which means spending quality time with family. Where "quality time", apparently, means trading presents with a bunch of red-sweatered weirdos you only see once a year, because your great-great-aunt once got busy with their grandfather's cousin twice removed, and now you're related.
Of course, you don't want to go out shopping for these gifts; who has the time for that? You save your quality mall-walking energy on the people who are really important to you — significant others, siblings, parents, kids, dogwalkers, bartenders and the cute coed across the street who never closes the curtains.
Extended family? Schmextended schmamily.
Those people get the unwanted ugly orphans of Christmas presents: useless crap from mail order catalogs. Hey, if you wanted thought put into your gift, you should've been my sister. Tough genetics, Ginny Sue.
During my annual schlock-shopping spree this week, I found I had some questions about the gaudy sweatshop-produced doodads I was buying for my loved ones. Luckily, the big mail order companies are all on Facebook now. Ho-ho-how convenient.
Read on for my mail order queries — and my actual posts on the companies' Facebook walls. Maybe you'll find a present for Cousin Clete or your Great Aunt Petunia's kid with the lazy eye whose name you can never remember.
Or maybe it'll inspire you to fake a bout of the bubonic plague and stay at home for the holidays. Then you can rummage through the catalogs, and buy a bunch of kitschy junk for yourself. Isn't that what the holidays are all about, really?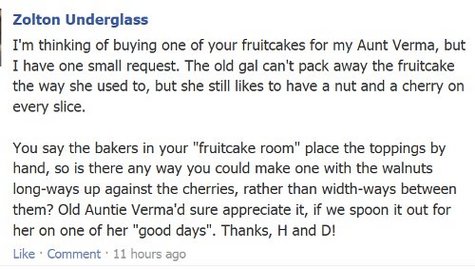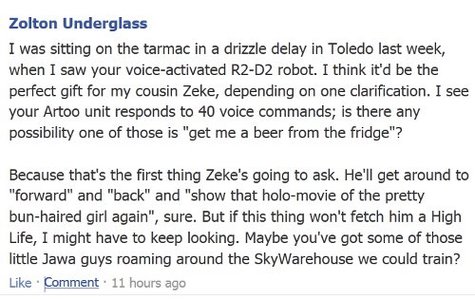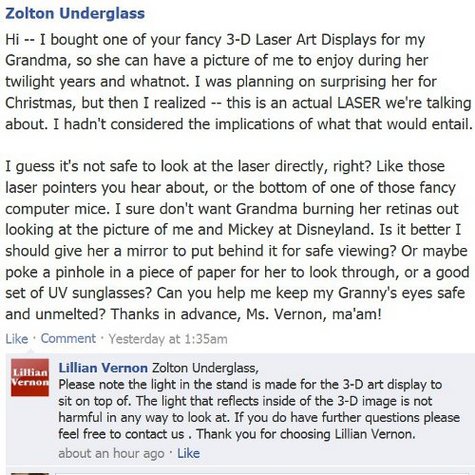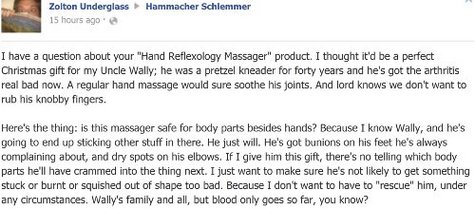 Last week, Zolton worked up a sweat with UnderArmour, Champion, Russell and Speedo. Want to join in the prank? Click the links to see each real-life Facebook post, and comment or 'Like' them to generate more buzz. Or visit Zolton's own Facebook page!
Permalink
|
No Comments