April 1, 2013
Zolton's Facebook Follies: Yer Doin' It Wrong
I originally wrote this piece for MediaShower.com, for use on the late, great comedy site ZuG.com. Text and images published here with permission.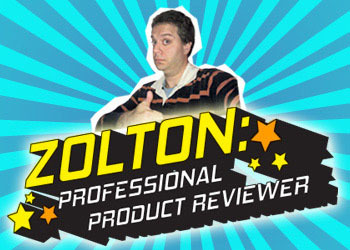 Some things in life are straightforward. Toothpaste comes out the top of the tube. You can figure out which end of the garage to drive out of, hopefully. There's only one bunhole where your hot dog will fit.
Other things… not so much. There are oodles — yes, literally oodles — of products in our lives that confuse and confound us on a daily basis. Especially me. My combobulate is always dis-somethinging itself, breaking apart or flopping out on the floor inappropriately. I decided I needed some assistance. 411. Li'l help over here.
So I reached out to ask about some of the products that have me freaked out and flummoxed. Read on to see my actual Facebook posts on the walls of some of the planet's most consternating companies.
I just hope they can help me. I haven't felt this confused since I watched The Crying Game on rewind.
Speaking of people you wished you'd never seen with their clothes off, my first stop was the home of Bear Naked, where I worried about how au naturel is too naturel: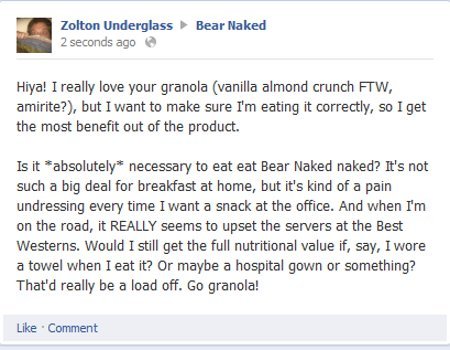 Next I took my beef to Old Spice.
Well, first I put my beef back in my pants. But then, by golly, I wrote a strongly-worded missive to the aftershave conglomerate, complaining about their "one smell fits all" philosophy: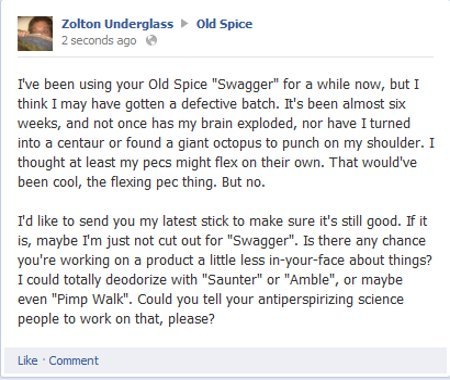 (You think I'm kidding. But who wouldn't spritz on a little "Pimp Walk" before a hot date? Nobody, is who. That.)
I never thought Turtle Wax would give me any problems. I saw Karate Kid; I know how this stuff is supposed to work. But then the tortoise shiners hit me with a new product curveball: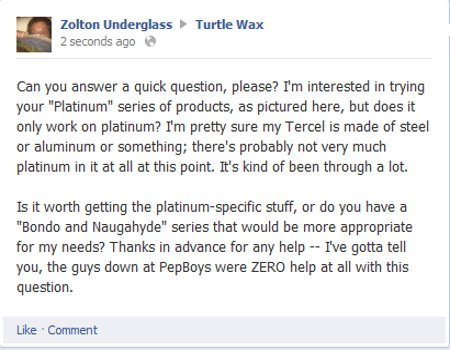 Finally, there was cat food. It seems simple enough — there are only two holes in a feline where it can go, and trying to shove it into one of them is extremely unpleasant. Particularly if your precious puckered pussy still has claws.
But my cat food is Meow Mix — and the cat is no conversationalist: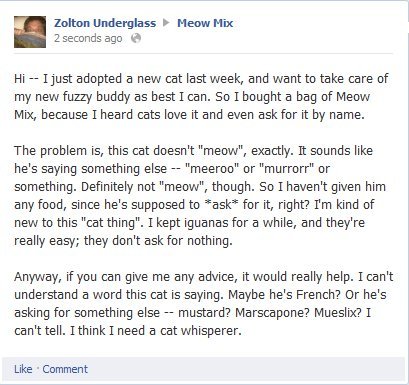 In the end, I didn't get any answers. My granola's still drafty, my aftershave angsty, I've got nothing to wax and the kitty is starving. But at least I still know where my hot dog goes. I'd sure hate to be confused about that.
Last week, Zolton asked the HARD questions of Smucker's, Purina Beggin' Strips, Lay's and Bounty. Want to join in the prank? Click the links to see each real-life Facebook post, and comment or 'Like' them to generate more buzz. Or visit Zolton's own Facebook page!
Permalink
|
No Comments