April 1, 2013
Zolton's Facebook Pranks on Jewelry Companies
I originally wrote this piece for MediaShower.com, for use on the late, great comedy site ZuG.com. Text and images published here with permission.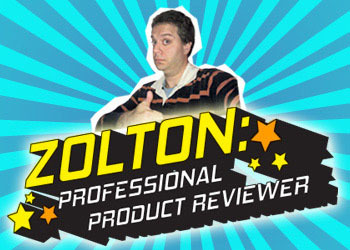 Valentine's Day is looming large and pink on the horizon, which means every man, boy and gent with a girlfriend, fiance or wife is sweating. And spending. And sweating some more.
One sure-fire way to stay in good romantic graces is with a gift of jewelry. Diamonds, as they say — or rubies, sapphires, pearls and platinum — are a girl's best friend.
(So women get precious stones as a best friend. And what do men get? Dogs — slobbering dorky little beasts who can lick their own balls. Hardly seems fair, does it?
Sorry, ladies. We're still not trading.)
Of course, the question when buying exorbitantly-priced bits of shiny rock is where to buy them. So as a Valentine's week service to all the men out there trying to avoid sleeping on the couch till April, I hit up a few of the biggest jewelers around for some answers. Or maybe a free sample for the missus. It never hurts to ask.
Read on for my bejeweled inquiries — and my actual posts on the companies' Facebook walls. Take it to heart, fellas: diamonds are forever, but being shut out of the bedroom for buying the wrong trinkets? That's an eternity. Trust me on this one.
The post: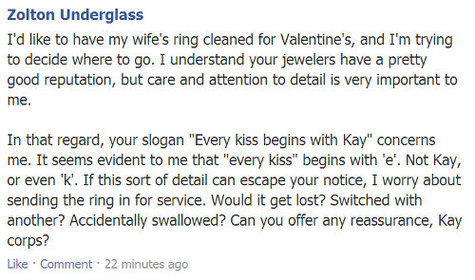 The post: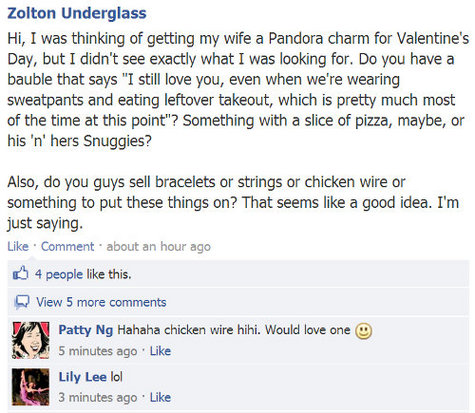 The post: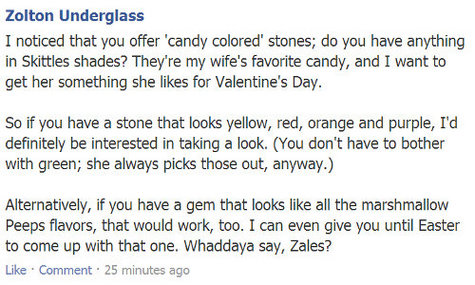 The post: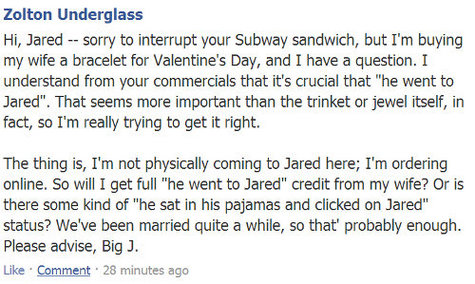 Last week, Zolton equaled up the genders with Remington, Hasbro, Hershey's and ConAgra. Want to join in the prank? Click the links to see each real-life Facebook post, and comment or 'Like' them to generate more buzz. Or visit Zolton's own Facebook page!
Permalink
|
No Comments