April 1, 2013
Zolton Does Amazon: Zolton Helps Hippies
I originally wrote this piece for MediaShower.com, for use on the late, great comedy site ZuG.com. Text and images published here with permission.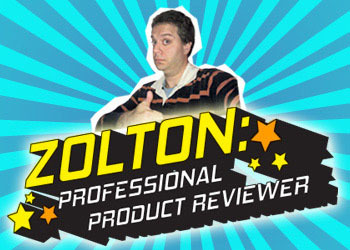 Earth Day was this past weekend. Maybe you didn't hear — it barely registered a blip this year. I guess all the granola-hugging treemunchers were too busy rolling hemp and smelling like feet to get the word out.
Predictably, the patchouli puffs didn't get very far. Earth Day came and went, and so far as I can tell, nothing has changed. The globals are still warming, the landfills are still toxic and nobody bothers to separate their green glass recyclables from their brown glass returnables. Will no one think of the brown glass returnables?
No. No one will. Not before the Earthpocalype, at this rate. So I decided to give the hippies some help. I'm shopping Earth-friendly from now on — and showing you how, too.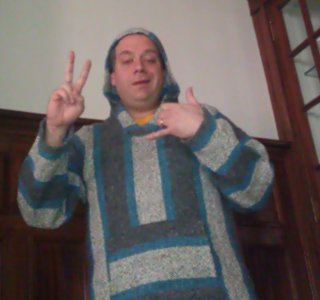 Note my fashionable striped hippie rugby. It's made from free-range organic burlap and shaved-off soul patches. Also, weed. LOTS of weed.
For starters, check out the all-natural mondo-organic carbon-neutral planet-pumping goodies below — and my actual Amazon reviews of all the products listed.
Hey, you can listen to me, or you can grow greasy dreads and catch vegan athlete's foot from an infected hacky sack. It's your call. Mother Earth gets hers, either way.
My Amazon Review:
At first, I questioned this product's Earth-friendliness. It's wood from an innocent murdered tree, hacked apart and packaged in cardboard — the lifeless husks of its fallen forest brothers and sisters. How could this bring anything but a tear to some old Native American's eye?
But then I tried it, and it all became clear. No additives. No preservatives. And this wood WILL NOT BURN. It's firewood — without the fire. Genius! A single box of this firewood will supply a fireplace FOREVER because it's never. Going. To. Burn.
Seriously, light it with a flamethrower. It won't burn. Douse it in gasoline. You got nothing. How about a little napalm spritzer? This wood laughs in your face, while the house burns down around you.
So, if you want an eco-friendly fireplace, by all means buy this wood and shove a couple logs in there. Just do NOT try to light it. It's not going to happen. Mother Earth says, "no."
My Amazon Review:
I'm tired of all the harsh and caustic fertilizers out there. This guano does the job without any chemicals or gimmicks. It's straight from the bat intestine, right to the bag. Maybe it sits on the ground for a while first, or the floor of a cave. But that's it.
Just be sure to get the authentic Indonesian Bat Guano. Accept no substitutes! I've tried them all, and the last thing you want is some snake offal salesman passing off Malaysian bat crap as the real deal. Malaysian! As if!
Or worse, Thai. I don't know what those people feed their bats in that country, but it does NOT make good guano. Maybe it's the curry; I don't know. But stay away. The Indonesian bat scat — that's where it's at, cat.
Now I just need to find some plants to put this stuff in. So far, I've been ringing my neighbor's doorbell and lighting the bags on his porch. But don't worry: he deserves it. The man uses Miracle-Gro. Tsk.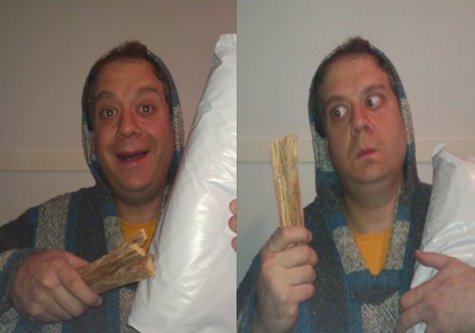 Hai, maybe I can use the wood to light the bags! But seriously, no — the wood is an idiot.
My Amazon Review:
This bracelet fooled me at first. But then I realized the "Earth Friendly" in the description is in quotes — just like the "Make a Wish." So it's as "environmentally responsible" as "fairy godmothers," "genies in bottles" and "eight-foot-tall gold sparkly unicorns shooting pixie dust rainbows out their butts"? Nice.
So now I'm wary. The bracelet is fine — but it's probably made from petroleum runoff and rainforest tree guts. I bet it causes acid rain and polar ice cap sweating and malignant wrist cancer in laboratory tweens.
That may sound a bit extreme. Do I really think all those things? Nah, I'm totally "kidding." "For real." What?
My Amazon Review:
If there's a better way to save the planet than making paper out of elephant poop, I can't think of it. First, it saves trees. Second, it makes elephant habitats smell a LOT better. Third, there are now people pn the planet whose job it is to collect jumbo Dumbo droppings for making this paper.
Think about that. These people HAD to be virtually unemployable before. If your primary skill is harvesting animal poop for fiber strands, you're very probably out of work, penniless, and mooching to survive. That's a huge strain on the planet now alleviated, thanks to this turdball stationery company. Kudos.
As for the product, it has a million and one uses. Need to write a Dear John letter? Poop paper gets the message across. Printing directions for your in-laws? Dung'll do it, junior. Handing out resumes that employers will say is crap, anyway? Now it's literally true! They may not hire you — but you made them hold poop.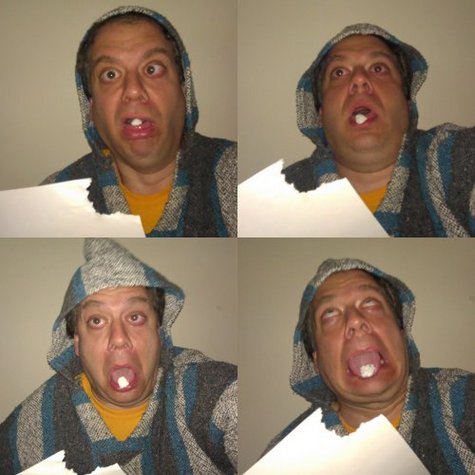 One application I might shy away from? Spitballs. Yep. Spitballs.
Can you ask anything more from an Earth-friendly product? The answer is no. No, you cannot.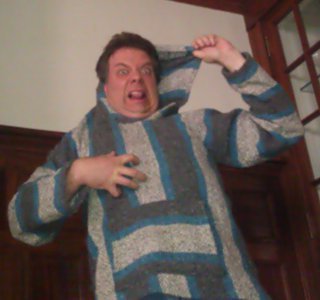 So I saved the planet; you're welcome. Now get this goddamned thing off me, before I start burning incense and listening to Phish.
Join in on the prank! Click the links to see each real-life Amazon review, then mark them as "helpful" so they rise to the top of the list on Amazon. Or click here to read and rate the entire library of Zolton reviews!
Permalink
|
No Comments