April 1, 2013
Zolton Does Amazon: WILL Get Fooled Again
I originally wrote this piece for MediaShower.com, for use on the late, great comedy site ZuG.com. Text and images published here with permission.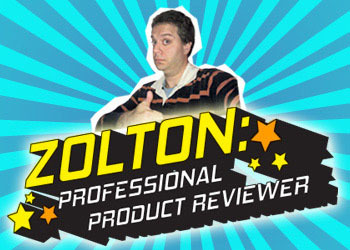 April Fool's Day is just around the corner. So this is prime time to ready all the gags, goofs, stunts, pranks, fools, psyches and gotchas that you've been saving up all year. But as we prepare to unleash our deluge of mayhem on coworkers, friends and unfortunate bystanders, there's one important detail too often overlooked:
Quality control.
The April Fools prank that doesn't go off isn't really a prank, now, is it? A joy buzzer with no buzz is no joy at all. If you penny in an empty room, who have you trapped? If a whoopie cushion goes off in a forest, does anyone cringe?
To avoid these embarrassing false starts and faux pas, I decided to have a dry run this year — a practice round of pranking, to make sure my gags were up to snuff. I just needed an unsuspecting rube to try them out on — some gullible sap who'd fall for every trick in the book, and was in no position to divorce me, fire me, disown me, arrest me or pound me into a thin bloody paste. The answer was obvious:
Me.
Thanks to a terrible short-term memory, questionable IQ and regular blackouts, I was the perfect patsy to test my battery of pranks on. So I headed over to Amazon, loaded up on supplies and set about fooling the bejeesus out of myself. Check out my practice-run prankstravaganza — including my real Amazon reviews of all the products — below.
And remember this April Fool's Day — if you're not pranking properly, then the only one you're really pranking is yourself.
My Amazon Review:
I've heard of putting bubble wrap under a toilet seat to make a noise when someone sits down, but that seemed pretty mild. I wanted more bang for my pranking buck.
Like everything else in the world, pranks are improved by the addition of gunpowder. So I carefully arranged a full set of these caps under the seat in my john, and waited for nature's call to override my aversion to loud explosions near my tuckus.
Sure enough, I woke up with an urge in the middle of the night and shuffled in for a 'midnight sit'. The moment cheek touched porcelain, the caps fired off like a posse of sewer bandits shooting their way out of a bidet. And I found myself hanging upside down and pantsless from a towel rack across the room, with powder burns all over my toilet seat. And my _other_ seat.
I'd call that 'Super Bang' for my buck, all right. Two cheeks up!
My Amazon Review:
I've always had a soft spot for the 'shoe polish on the binoculars eyepiece' gag. Let someone look through, and they get the raccoon mask look for a day — hilarious!
But who uses binoculars any more? Bird watchers and perverts, that's who. And I gave up ornithology after my last snipe hunt, so I needed a different target for applying polish.
The answer came to me in a flash — the cell phone. So I applied a liberal coat of the black stuff to the face of my cell phone, and waited for the next call to come in. When it did, I absent-mindedly lifted the phone to my cheek as usual, and thought nothing more about it. Until people started asking me why I was growing one really dark mutton chop, or how I managed to live with a huge rectangular hole in my face.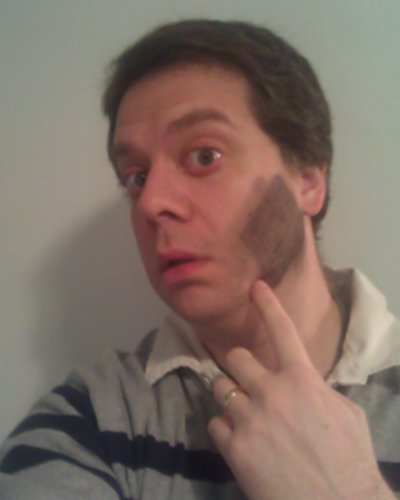 I've got something where, now? Over here? Did I get it? It's gone, right?
Unfortunately, this polish is *really* hard to get off. I worried that I was rubbing layers of skin off trying to scrub it away — so much so that I called 9-1-1 for help. Or tried to — but some jerkwad had glommed shoe polish all over the face of my phone, so I couldn't see what I was dialing. I never did reach emergency services — but I apparently set a new personal best in Angry Birds while I was trying. So I've got that going.
My Amazon Review:
I unwrapped this dribble glass and mingled it in among the other glassware in my cabinet, figuring I'd grab it accidentally one day and give it a good road test. A few days passed and I completely forgot about it.
Until last Saturday, when my wife went to bring her mother over for dinner. I was supposed to pull out the roast and set the table, but first I decided on a quick brewski to calm my mother-in-law-jittered nerves. Naturally, that's when the dribble glass made its way into play.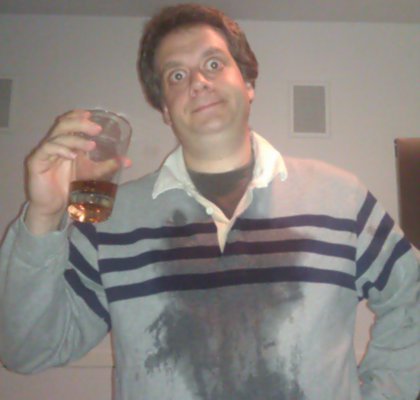 Of all the beer glasses, in all the towns, in all the world — you had to dribble out of mine.
My wife and her mom returned to find me covered chin-to-belt in spilled beer, with the dog lapping up a puddle of the stuff on the kitchen floor. It dripped on the plates I set out, on the table, on the roast, on dessert, and on my mother-in-law's coat when I offered to take it. My *teetotaling* mother-in-law's coat. She couldn't have been more mortified.
So basically, I'd call the glass a rousing success. I'm buying a six-pack and having her over again for April Fool's. Bottom's up!
My Amazon Review:
A lot of these products _say_ they smell bad. But I had big reeking havoc to wreak on the big April day. I needed to know if this was the real deal. To test it, I used the direct approach: I took it to work one day, carried it to the bathroom at lunchtime, squirted it out onto my hands, and applied it cheek-to-cheek like aftershave.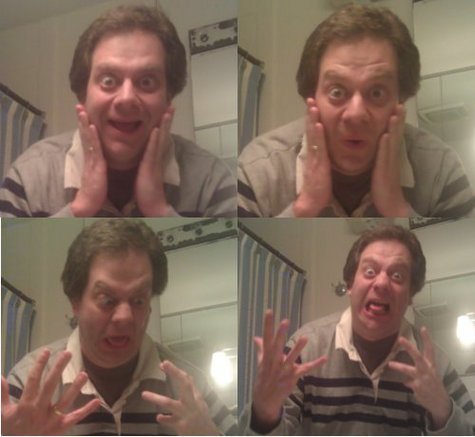 Meh. It still smells better than Drakkar Noir.
I don't know exactly what happened for the next ten minutes or so — the hallucinations about giant dancing septic tanks pretty much took care of that. When I regained my senses, I returned to my desk in a haze of concentrated unholy stench the likes of which hasn't been witnessed since… I don't know. Waterworld? Rebecca Black? The latest New Jersey Nets game?
The smell eventually subsided over the course of a few hours. That was three days ago. On the bad side, every meal I've had since then has tasted like a pack of burning cats simultaneously using the same litter box. And there's no wine on the planet you can pair with that to make it palatable.
On the good side, no one in the office has dared come near my desk to bother me since then, for fear of entering the smelly fog. Downsides or not, that's worth its weight in gold. So I'm not using this to prank anyone on April 1st — but I am ordering another dozen bottles to replace my Old Spice. Peace and smelly quiet — here I come.
Join in on the prank! Click the links to see each real-life Amazon review, then mark them as "helpful" so they rise to the top of the list on Amazon. Or click here to read and rate the entire library of Zolton reviews!
Permalink
|
No Comments