April 1, 2013
Zolton Does Amazon: On the St. Paddy Wagon
I originally wrote this piece for MediaShower.com, for use on the late, great comedy site ZuG.com. Text and images published here with permission.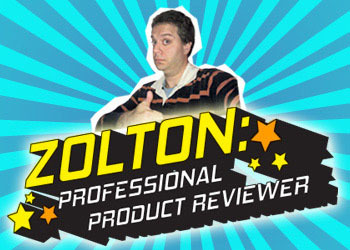 Saint Patrick's Day is just around the rainbow, and this year I vowed to be prepared. Patrick is one of the world's favorite Saints, after all — right behind Nicholas, Pauli Girl, and The New Orleans.
And what's not to love about St. Patrick's Day? The wearing of the green, the dancing of the jigs, the doing of the whatever the hell we're supposed to be doing with the shamrocks, and the drinking — always with the drinking. My kind of people, the Irish. Two pints for breakfast, and it's down the hatch from there.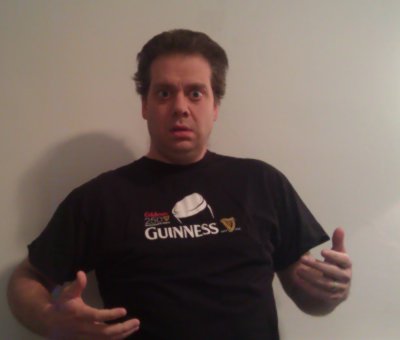 I prefer "the wearing of the Guinness". Although the lack of stripes makes me feel strange. And a little gassy.
But too many years, I've sat on the sidelines. I'd get busy or forget the calendar or all my lime-colored togs would be at the cleaners, and bam! Another St. Patrick's Day missed.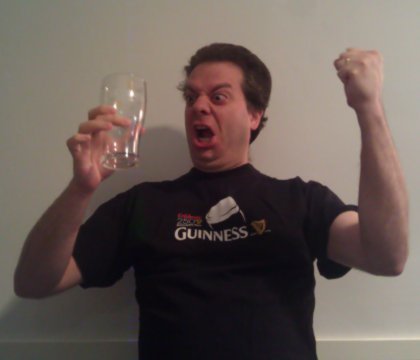 BEER GONE?! ZOLTON ANGRY! ZOLTON SMASH!!
Well, greenless, overpinched and sober is no way to go through life. So this year, I decided to go shamrocks-to-the-wall and stocked up on all my St. Paddy's Day supplies well in advance, thanks to the good folks at Amazon. Read on to see how my preparations went — and the actual Amazon reviews of all my St. Pat's purchases. Zolton go Braugh!
My Amazon Review:
I bought this leper mask for a pre-St. Patty's Day party, and wore it ready to yuk it up with dozens of others in similar costume. But this one is so realistic and detailed, I knew I'd be the talk of the party.
Which I was, but not for the reason I thought. Turns out I had confused 'lepers' with 'leprechauns' when picking out my getup. Lepers have nothing to do with the holiday — except mabe the hangover the next morning. And everyone at the party was staring at my hideous mask, gaping.
No matter. Like I always say: when life gives you lepers, you make leper ade.
I just explained that I was dressed as the shambling corpse of old zombie Saint Patrick himself, risen from the dead to make merry with the living. I lurched around the party mumbling, 'Snaaaaaakes… snaaAAAAaaakes…' for a while, then parked myself by the green punch bowl and had a wonderful time. Or so they tell me.
In short — great party, great costume. Would highly recommend!
My Amazon Review:
St. Paddy's Day just isn't the same without a wee tipple or three of the old witches' brew. Sadly, I couldn't find real Irish whiskey available for sale on Amazon. So I did the next best thing and bought these fine Irish mustards, made with the very hair of the dog I was looking for.
I'm Irish enough to know that fine whiskey from the old country should be messed with as little as possible. So when the condiments arrived, I filled a nice fresh highball glass with a few ice cubes, scooped in three fingers of wholegrain Irish whiskey mustard, and sipped it by a roaring fire.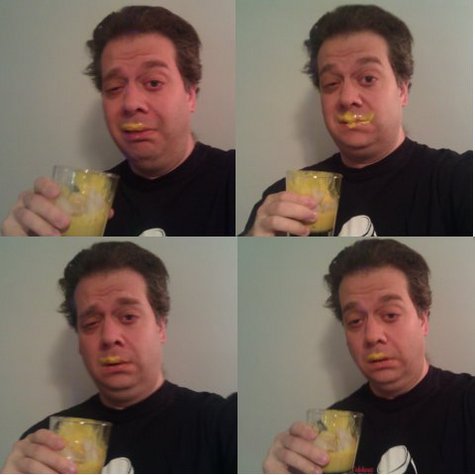 Because no single image can capture the full majesty that is the Irish mustard sipping experience.
I can't say this product was quite as 'smooth' as the other Irish whiskeys I've had. The color was rich and dark, and I definitely detected a hint of the familiar smoky peat. But most of the other characteristics I was looking for seemed masked — muted somehow by a very front-forward… how should I say it? "Mustardiness," I think would be the technical term.
I probably wouldn't recommend sipping this neat. Sadly, this vintage is probably best mixed — perhaps in a whiskey sour, or a mustard julep, or some sort of hot dog-flavored Irish coffee.
My Amazon Review:
Saint Patrick's Day is all about the 'green', so I bought this book to tell me everything I needed to know about the Irish experience. Right off the bat, the subtitle seemed a little strange: 'Gleaners, Scavengers and Dumpster Divers'? That sounded pretty harsh to me. I mean, sure, they did what they had to do to survive during the Potato Famine — but that was a long, long time ago. Cut the nation some slack already. And did they even _have_ dumpsters in the mid-1800s? Odd choice.
On top of that, the book didn't tell me much that helped prepare for St. Patrick's Day. It was just a bunch of essays about people foraging through trash and recycling bins and living off what other people throw away. There were no shamrocks or green beer or snake chasers at all. And certainly no pots o' gold to be found.
On the good side, I used what I learned to dig through the dumpster behind my local party supply store, and found a veritable treasure trove of barely-damaged, somewhat-torn, possibly-spat-on and marginally-misspelled holiday goodies. This is going to be the best Santi Partickl's party EVER!!!
My Amazon Review:
When I go all out, I go *ALL*. *OUT*. So I decided to dye my hair green for the holiday this year. Anyone can wear their colors on their sleeve — I can wear mine under a _tiara_. Only I don't wear a tiara. But I should, because this hair dye move was HARDCORE ROCK STAR.
Unfortunately, I picked the first 'green dye' I found in the search, which was this one. Which happens to be for fabrics. And which my hair is not.
That wasn't a big problem, because it says right in the description that it works on 'all natural fibers', which my hair *is*. So I squeezed it out onto my head and massaged it in deep — while I read the rest of the description, which includes the word 'PERMANENT'. Ouch.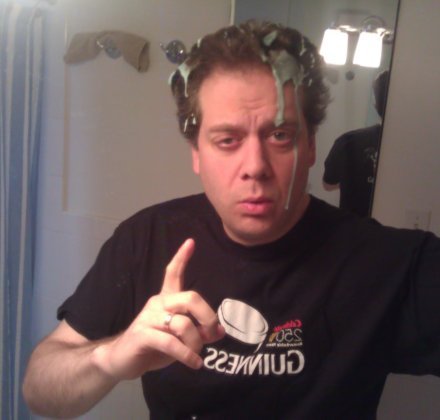 Wait, I'm sorry. That said PERMA-what, now?
The good news is that the dye works like a dream. I got even coating all over, great penetration down to the roots, and the color is as vibrant and rich as a Nicaraguan jungle. Also, those pesky gray hairs I've been noticing lately? No longer an issue.
Of course, the bad news is that I'm going to look like an Emerald City troll doll for the next six-to-eight weeks, until my hair grows out. That is, IF my hair grows out.
But no matter. Until then, *every* day is Saint Patrick's Day, and I get to celebrate it all the way into May. Which is what I was really hoping for in the FIRST place.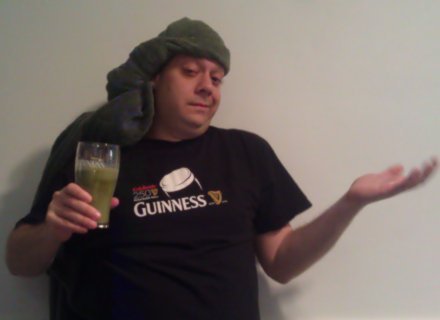 My hair is setting, the beer is green, and the drinking goes on through the spring. Stay VERY thirsty, my friends.
Join in on the prank! Click the links to see each real-life Amazon review, then mark them as "helpful" so they rise to the top of the list on Amazon. Or click here to read and rate the entire library of Zolton reviews!
Permalink
|
No Comments