April 1, 2013
Zolton Does Amazon: Summer Reading
I originally wrote this piece for MediaShower.com, for use on the late, great comedy site ZuG.com. Text and images published here with permission.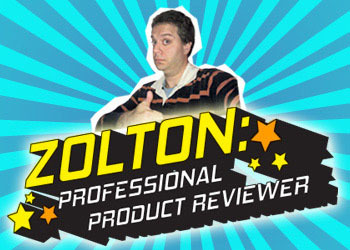 It's too hot this summer to do anything outside. It's too hot to do anything inside. And it's too hot to do anyone — outside, inside, or in the doorway to the veranda. This sort of weather calls for complete bodily stillness — and maybe an ice cube down the underpants.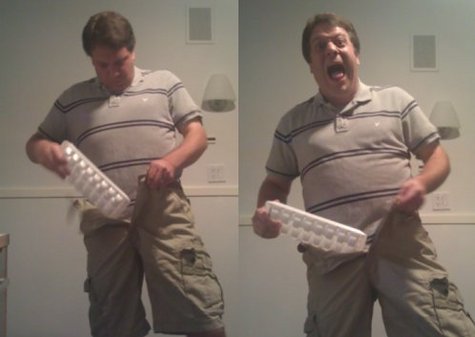 "I WAS WRONG! I WAS WRONG! GET ME A WARM TOWEL AND THREE GALLONS OF ALOE — STAT!!"
Still, that doesn't mean we can't be productive. We may not be going places or building things or learning the watusi, but our minds are still ripe for the exercising. Or in my case, overripe. Maybe a little moldy. And possibly infested with mealworms. I was never the juiciest Smith on the Granny tree, if you get my drift.
But I don't let that stop me. I may have spent the better part of this summer with my ass hanging in the kitchen freezer, but I've done it with a book in my hand. A book — or two, or four — that I bought from Amazon, to further my personal edification. Or at least to distract me while waiting for my cheeks to thaw out.
If you're looking for a summertime page-turner, check out my actual Amazon reviews below of the books I tackled this summer. These are great for reading in the john, or nestled up against a bag of frozen peas. Wherever you like it, you'll surely agree — reading is cool.
My Amazon Review:
I've read a few of the books in the 'Dummies' series — 'Walking and Chewing Gum for Dummies', 'Advanced Turn Signal Usage for Dummies', 'Pet Rock Care and Feeding for Dummies'… but this volume seemed somehow different.
For one thing, the words are enormous. I'm only picking up bits and pieces of the gist, but it's blowing my understanding of the world out of the water. For instance, I always thought Schrodinger was that guy from 'Peanuts' — but no. Also, an eigenvector is not something played by church organists, and harmonic oscillators don't come with 'happy endings', apparently.
I'm really learning a lot from this book. I don't know how much of it has anything to do with quantum physics. But then again, I don't see how an Australian airline figured all this stuff out in the first place. It burgles the mind.
My Amazon Review:
I liked this book; it provided a lot of useful information about keeping bees, maintaining them and caring for their little bee needs.
My only quibble is with the title. I've given it a lot of thought, and I've decided I really don't want complete idiots to keep bees. I understand that the book is a good resource, and gives step-by-step instructions. But these are complete idiots we're talking about. They'll screw it up; they always do.
And then what happens? Will the bees die out because they can't live on the Honeycomb cereal these doofuses will try to use? Will the slackjaws go rooting through beehive hairdos for honey? Will we be subjected to swarms of wild feral bees, angry at coming from broken idiot homes?
I don't know. And I don't want to find out. So I'm not keeping any bees. And if you're the kind of person who puts your beekeeper suit on inside-out or backwards all the time, maybe you shouldn't, either. I think the bees would be much better off. WON'T SOMEONE PLEASE THINK OF THE BEES?!
My Amazon Review:
This book seemed to be right up my alley. I've been told by lots of people that I don't know anything — anything at all — and that's precisely what the book is about. Not knowing. And I was always taught that if you don't know about something, you should keep your fool mouth shut about it. So I figured this would be a nice short easy read. Something I could finish in an afternoon. Maybe a long weekend, max.
But it's six hundred pages.
Six. HUNDRED. Pages. Of not knowing. I think I'm happy the author didn't know something, or who knows how much book there'd be? If there was any knowing going on in this thing at all, you'd need a handcart and a library assistant to carry the thing around. If you put it on your Kindle, it'd swell up like a balloon.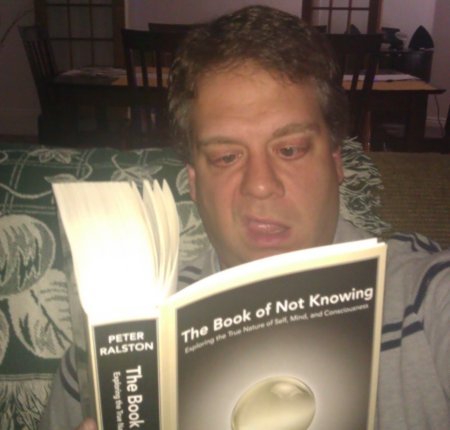 It's the table of contents, and I already need a dictionary. And a drink. Also, a Ph.D. in word-learning. But let's start with the drink.
Instead, it's just the 600 pages of not knowing, which is kind of a tough plot to sell. I started the book, and he didn't know. I skipped a few chapters, and he still didn't know. So I cut to the end, and — SPOILER ALERT — there's no knowing. It's like a Where's Waldo picture album in nine volumes, only Waldo's been airbrushed out.
I don't know if that counts as enlightment. But it feels pretty deep, man.
My Amazon Review:
This was easily the most practical book I read all summer. All my other books wanted me to be a better person, or learn about something, or keep track of weird little insects for a hobby. So hard.
But THIS book does none of that. It's a book for losers, aimed at ensuring their complete and comprehensive failure in every conceivable life situation. Wheelhouse, thy name is this book.
What I really appreciate is the clear and concise methodology the author describes for systematically wrecking one's life. Sure, I've been on that path for some time now — as Exhibit A, I'm reviewing a book on Amazon right this minute! — but I've always felt my self-dismantlement was happening fairly willy-nilly, and never plummeting like a stone through the floor.
With this guide in hand, though, the road to personal failure is charted, TripTik'ed, programmed into the GPS and virtually assured. It really takes the guesswork out of abject failure. Thumbs up!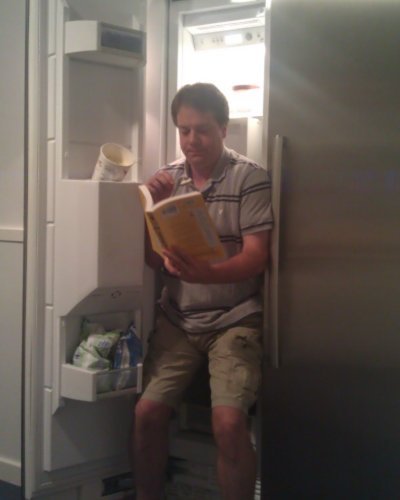 Actually, I think I've got that 'failure' thing well in hand. Also, I can't feel my ass. Happy reading!
Join in on the prank! Click the links to see each real-life Amazon review, then mark them as "helpful" so they rise to the top of the list on Amazon. Or click here to read and rate the entire library of Zolton reviews!
Permalink
|
No Comments