April 1, 2013
Zolton Does Amazon: REALLY Alternative Medicine
I originally wrote this piece for MediaShower.com, for use on the late, great comedy site ZuG.com. Text and images published here with permission.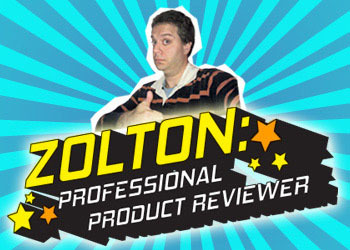 Staying healthy these days is a royal pain in the sedentary butt. People in the old days had it so much easier — they went to work in the factories at age eight, slaved for eighteen hours a day, lived in filth and died at thirty. They didn't worry about free radicals or bad cholesterol or high-fructose gruel syrup.
Worse, modern doctoring can't keep up with all of our sniffles and syndromes. So I turned to "alternative medicine" to cure what ails me. Or rather, "alternative alternative medicine", based on what little I know — and what I could cobble together from the products on Amazon. Read on to learn about my holistic health hijinx — and for my actual Amazon product reviews. It'll kick your qi in the keister.
My Amazon Review:
I keep hearing about the miracles of the ancient Asian art of acupuncture. But genuine "therapeutic" needles cost a fortune — do they come with an ancient Asian to apply them, or what? You'd think Mr. Miyagi was going to jump out of the shipping box and "wax on" the needles under your epidermis.
I decided to try a more frugal route and bought these skewers for acupuncture, instead. They're sturdy, easy to handle, and built to last whether you're poking a pain-preventing pressure point or piercing a perky peppered pork chop. And best of all, if I use them for medicinal purposes after I've used them for skewering, everywhere I press smells like shish kabob. And if THAT won't make you feel better about life, I don't know what will.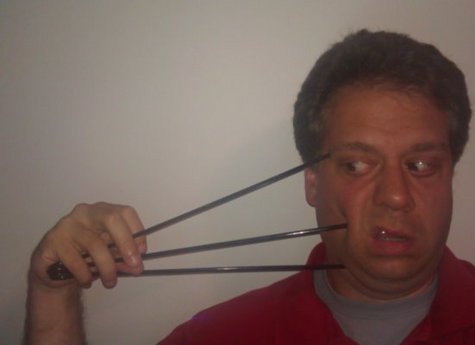 The only medical treatment I know that comes with an optional "marinating" step.
My Amazon Review:
Magnetic therapy is supposed to help with joint aches and pains. I've had trouble with a wonky back, so I bought one of these to rub on the sore spots for relief. It's like Ben Gay, without the mess or the awful smell. Or, say, scientific evidence of any use whatsoever. But who ever let "science" stand in the way of getting well?
I saw the package when I got home one evening this week, ripped it open, and immediately applied the magnet to my lower back. It didn't help right away — until it slipped out of my hand into my wallet pocket, turning all my credit cards effectively into drink coasters. Once I'd cleared all the now-useless plastic out of my wallet, I sat more level — and my back pain went away. Behold the mysterious power of magnet healing!
My Amazon Review:
I've had a little piece of pencil lead stuck in my knee for years. I've never been able to get it out, and who knows how it's been festering all this time? I figured rather than cut it out — because who wants THAT mess? — I'd turn to "psychic surgery" to remove the offending bit of graphite from my person.
Unfortunately, this product isn't an actual psychic surgeon, or even a book on how to perform the procedure. It's just a Magic card that doesn't seem to DO anything about my problem, no matter what I do with it. Even if I scrape at my knee with the corner. Lazy stupid card.
One geek friend of mine says it would work if I just "tap more mana." I'm not sure what in the heck that even means — and where am I supposed to get an island and a swamp at this time of night, anyway? From CVS? Forget it. I'll just wait for the graphite to break down in my blood stream. That should only take fourteen hundred years or so. I can wait.
My Amazon Review:
If pop culture and old James Bond films have taught us anything, it's that voodoo dolls are scary good juju. Or bad juju. Or filled with jujubes. Something like that. But they're powerful stuff, any way you stick them.
I suffered a nasty mosquito bite on my leg this week, and it simply wouldn't stop itching. Rather than turn to a "doctor" or "calamine lotion" to cure it — because what do THEY know? — I pulled out the voodoo doll that comes with this hot sauce. I found the approximate spot on the doll corresponding to my itch, and gave it a solid jab with a needle for relief.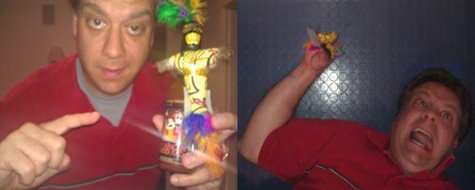 On a scale of 1 to 5, I'd rate my current pain level as VOODOO ZOMBIE APOCALYPSE!
When I came to, I was lying on my kitchen floor writhing in pain. I managed to pull the pin out, which stopped the searing stabs shooting down my leg — but the itch was still there. So I compromised, and rubbed some of the hot sauce onto the bite instead. That burned sort of quite a lot, too, but at least I can still walk. And the itch is gone, and now I know what a hot wing drumstick feels like. I'm calling that "progress."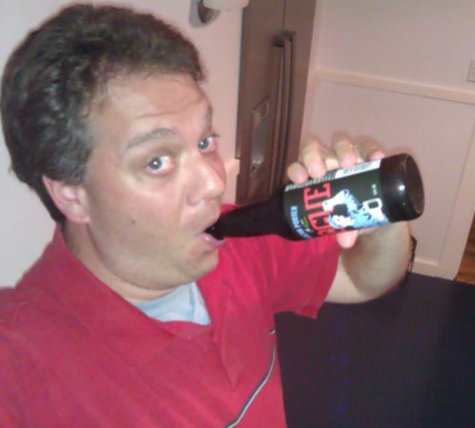 As usual, my best medical "alternative" was in reach all along. Bottoms up, health nuts!
Join in on the prank! Click the links to see each real-life Amazon review, then mark them as "helpful" so they rise to the top of the list on Amazon. Or click here to read and rate the entire library of Zolton reviews!
Permalink
|
No Comments