April 1, 2013
Zolton Does Amazon: Kung Flu Fighting
I originally wrote this piece for MediaShower.com, for use on the late, great comedy site ZuG.com. Text and images published here with permission.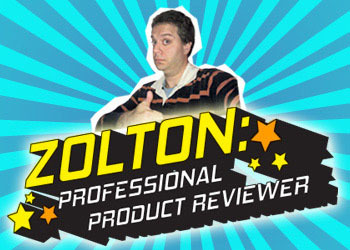 We may have reached March on the calendar, but we're not out of the woods. And by "woods," I mean danger. And by "danger," I mean sickness. And by "sickness," I mean that nasty feverish disease you catch from people who French kiss pigeons and hogs.
No, not that disease. I'm talking about the influenza bug.
We're still in the heart of flu season, and this is no time to let down your guard. Just one slip — a single untimely inhale — and you could be bedridden for weeks with the bird flu, or gecko flu, or albino chinchilla flu or whichever one we're supposed to panic about next. And everyone knows that flu shots are only for old people and pig smoochers; so how do the rest of us protect ourselves?
Fear not, susceptible citizens, for I come bearing a bevy of common items — conveniently available from Amazon.com — that can be used to stave off the dread influenza bug. Read on for my actual Amazon reviews of these products, and for the information you need to keep the doctor away this flu season:
My Amazon Review:
I've never liked those surgical-style "isolation" masks for keeping germs out — they're too flimsy and papery, and the elastic bands pinch my ears. I figured the "foam lined cups" and "adjustable stretch straps" featured in this product would be far more comfortable — and even better, each bra is two masks in one!
I'm happy to say that the fit is a dream; the straps gently caress my ears, and the cups are so silky smooth I sometimes forget I'm wearing it. And with the right adjustment, the underwire slips right under my chin for a snug fit. After a little experimentation, I found that my nose is about a 36C cup — you may need to try a couple of sizes to get a proper fit.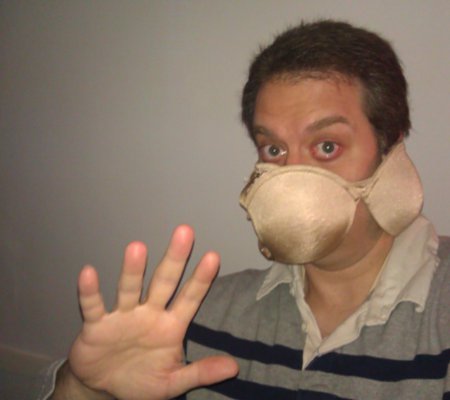 Why does everything smell like milk and awesome today?
My only complaint is that the straps sometimes slip off my ears, so I've gotten in the habit of fastening the hooks behind my head to prevent slippage. But I've never been able to unhook those things without looking, so I can never get it back off. More than once, I've had to sleep in my bra-mask overnight. Other than that — great product!
My Amazon Review:
One of the most important precautions you can take for flu prevention is protecting your personal space. If a "carrier" can't get close enough to spew phlem and saliva and germs at you, the better chance you have at staying healthy. Sneezes can come at you at over 100 miles an hour — even Neo couldn't dodge that kind of speeding sick!
I've found these bases to be invaluable as a flu prevention tool. I simply lace my arms through the back straps and gently nudge away anyone who threatens to enter the "spittle radius" — or bop them out of the way as I pass through. For especially persistent targets — or any woozy-looking pigeons — I'll mount a couple on my shins as well and savegely kick the offenders away. I even bought some extra sets, so when I ride the subway to work I can build a little base fort to keep the close talkers and over-chummy winos at bay. Macgregor, you're a life saver!
You're rounding third and heading for PAIN, sparky.
My Amazon Review:
My dilemma has always been what to do about people who clearly already have the flu, but won't voluntarily choose to be fevered and miserable in the privacy of their own homes. If they show up at my office or food court, I can't just lock them in a closet or stash them in my trunk until they're no longer a danger. What's a law-abiding flu-ophobe to do?
Thank goodness I stumbled onto this product. It's clearly marked as "flu tape" to be used on people with high temperatures. I carry a roll everywhere I go now, and if I run into someone with the sniffles or a bad cough — even a mild sore throat — I immediately sit them down and wrap them head-to-toe in this wonderful therapeutic gauze.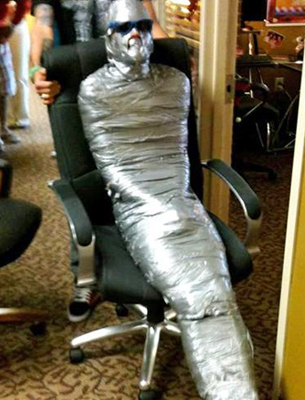 Another happy — and healthy! — flu tape customer.
Naturally I start with the mouth — to protect myself from airborne contamination — so they don't have the chance to thank me. But even the first application seems to breathe new energy into them. Right away, they go from congested and foggy to wide-eyed and energetic, as they hop around in their chairs and bellow for joy. I don't know what kind of medicine this stuff is coated with, but it sure works wonders.
As an aside, it seems like this tape might work pretty well on sealing fireplace joints and stovepipes, too. But who'd want to waste such a miracle product on something like that?
My Amazon Review:
Protecting my hands from germs is always a top priority. I wash and rinse and disinfect, but I wanted a less high-maintenance solution. Like gloves. Only not latex gloves — those feel all rubbery and clinical and when I wear them people always mistake me for a proctologist. Or worse.
On the other hand, I needed a pair of winter gloves, so I bought these and started wearing them whenever I'm in public. It's mostly working out great — except when I'm in the office. I type a lot at my job, and these are way too thick to accurately hit the right keys. So I've been forced to "touch type" by holding an old coffee stirrer I found under my desk. Only, I don't want to get my sanitary gloves dirty, so I have to hold it in my mouth.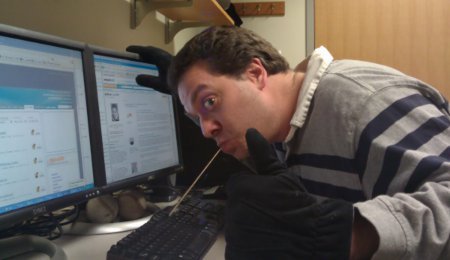 These gloves make me so healthy, I can TASTE it!
It's just possible I'm undoing a tiny bit of the germ-freeness that I'm cultivating with these gloves. But I haven't found a better solution yet. Do they make tongue mittens? Or coffee stirrer disinfectant? Oversized keyboards with buttons the size of beer coasters? I'm sure the perfect answer is out there, if I continue to look.
Meanwhile, I don't feel so good. I think I might be coming down with something.
Join in on the prank! Click the links to see each real-life Amazon review, then mark them as "helpful" so they rise to the top of the list on Amazon. Or click here to read and rate the entire library of Zolton reviews!
Permalink
|
No Comments