April 1, 2013
Zolton Does Amazon: Nothing But the Tooth
I originally wrote this piece for MediaShower.com, for use on the late, great comedy site ZuG.com. Text and images published here with permission.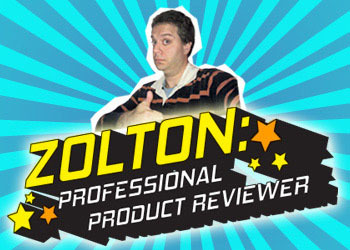 My teeth and I have been through a lot together. Sure, there have been some tough times — teething pains, for instance. Two years of braces. The unfortunate Popcorn Kernel Incident of 2004. But my chompers are always there for me — whether I'm digging into a Granny Smith or gnawing my way into one of granny's childproof medicine bottles.
My teeth don't ask questions (unlike nosy old grandma); they just bite when say bite, and chew when I say chew. (Also unlike grandma.)
So naturally, I want to take good care of my pearly whites. But is the tired old traditional toothbrush really the best way to do it? These crude dental devices were designed in the 1800s — they still huffed ether and bled people with leeches back then. If you got a cavity, they didn't give you a root canal; they burned you at the stake.
It's the 21st century, and I'm tired of having these outdated old toothbrushes crammed — literally — down my throat. The talking toothheads say we should brush three times a day, for five minutes each. Well, I call hog-mouth-wash. With a little ingenuity and a squeeze-from-the-bottom tub of internet shopping savvy, I bet I could clean my teeth better, faster and without a Cavity Creep in sight.
So I scoured Amazon and found a whole slew of toothbrush replacements. Read on for the details — your choppers will thank me later.
My Amazon Review:
While those little "regular" toothbrushes only hit two or three teeth at a time, this big fella can brush ALL my teeth at once. Just a couple of quick swipes around the mouth, and I'm good to go — a real time-saver!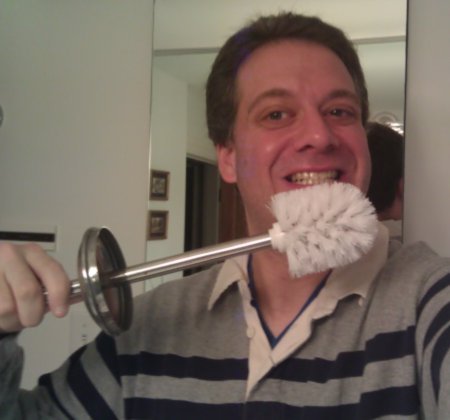 Progress isn't always pretty. But it usually tastes like spearmint.
On the downside, it does take an awful lot of toothpaste to cover the bristles. And the brush is a pretty tight fit for my mouth — more than once, I've accidentally brushed my forehead or nose, trying to get the whole thing in. But frankly, that's a bonus — the insides of my nostrils have never felt so minty fresh.
Just be sure your spouse doesn't mix your new toothbrush with your actual toilet brush. When my wife was cleaning the john last weekend and the bowl started to foam, I knew we had a problem. Ew.
My Amazon Review:
Sometimes innovation is simply about looking at a situation differently. Like, why hold my teeth still and move a little brush around them when I can hold a huge brush in one place, and rub my teeth all over it?
I mounted this brush right beside the medicine cabinet in my bathroom. Now, every morning I simply drip some toothpaste onto it, put my face in, smile nice and wide, and jiggle my head around for a dentist-worthy cleaning. It's good dental health, aerobic exercise and — if I lean forward just so — salon-quality eyebrow grooming, all at once. Time-saving genius, is what that is. I'm buying a second one to take on the road.
My Amazon Review:
I'd heard good things about "sonic" toothbrushes, but those scrawny little devices are too underpowered for my tastes. Instead, I bought a couple of these babies. If the sound is loud enough to scare away moles and squirrels, it ought to frighten the holy creeping bejeezus out of gingivitis, right?
I figured the closer to my teeth the better, so I tried holding one in my mouth like a thermometer or an unlit cigar. The vibrations were pretty unsettling at first — blurred vision and involuntary shakes every fifteen seconds is no way to drive to work, for starters — but I got used to them.
I have no idea whether this thing is spooking away bacteria in my mouth — but all that shaking has certainly sped up my digestion. I can eat a full lunch, and by three pm it's wiggled all the way down to the proverbial gopher hole. Would highly recommend!
My Amazon Review:
I remember when "waterpiks" were all the rage. I also remember wondering how long it took to clean a whole mouth with a tiny little pea shooter like that. I mean, you can fill an Olympic swimming pool using just a teaspoon — but who would want to?
Enter the Stream Machine, which can flush my mouth with two full feet of cleansing water in a matter of seconds. It's a bit of a tricky procedure, of course. Good aim is crucial, particularly if I'm "freshening up" at the office and need to keep my clothes (and hair, and back, and the insides of my ears) dry. Also, it's important not to shoot the water too fast — I got in a hurry one day, and nearly shot my uvula clean off. It didn't drop again for nearly a week.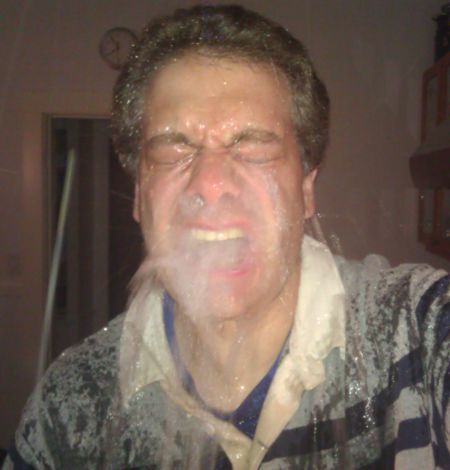 There's no such thing as "tooth-kake." I don't even want to hear it.
Meanwhile, my mouth feels clean, fresh and free of any bacteria or debris that wouldn't stand up to a class 4 typhoon. The only downside is administering the cleanings myself. Maybe you have a friend that you can trust to shoot you, just right, in the mouth with a pump-action water cannon without soaking you head to toe. Maybe I do, too. But I doubt it — and I am NOT finding out the hard way.
You can help with this prank! Click the links above to see each real-life Amazon review, then mark them as "helpful" so they rise to the top of the list on Amazon!
Permalink
|
No Comments