April 1, 2013
Zolton Does Amazon: I'm With Cupid
I originally wrote this piece for MediaShower.com, for use on the late, great comedy site ZuG.com. Text and images published here with permission.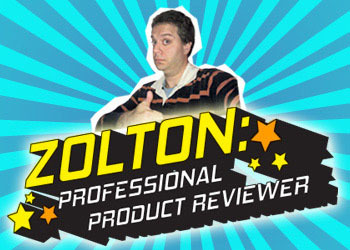 Valentine's Day is the most perfect day of the entire year — there's something for everyone. Pretty girls get showered with gifts and flowers. Single people are allowed to vent the grim burning hatred they secretly harbor for anyone in a relationship. Ugly children are taught the valuable life lesson that they'll never find love, due to their shameful and repulsive appearance.
And slack-jawed Neanderthals like me are allowed one precious fleeting chance to make up for all of the stupid, lazy, thoughtless, horny, arrogant and unromantic things we've done in the past calendar year. Namely, all of them. In one fell Valentine's Day swoop, the properly executed Grand Romantic Gesture can get you out of the doghouse and back in the bunkhouse. At least until your next idiot move.
But Grand Romantic Gestures can cost a lot of scratch. What if you're trying to worm back into her G-string on a budget that's shoestring? Fret not, undersexed horndogs. With just a few bucks and some help from good old Amazon, you too can put the charge back in your love life, and the buzz back in the nightstand drawer.
Here are just a few of the romantical feats I pulled off this Valentine's Day, along with the real-life Amazon reviews I posted. You've got a whole twelve months' worth of idiocy to work through; next V-Day, you can try these, too:
My Amazon Review:
My wife loves the scene in "Ghost" where Patrick Swayze and Demi Moore make an ashtray together. She says there's more to it than that, but of all the things she talked about, "pottery wheel" is the only one I could find on Amazon.
This wheel seems very sturdy, and definitely held a lot of clay when I brought it home for us to try out. We set it up in front of the TV so we could watch the scene for sculpting pointers; unfortunately, neither of us is very coordinated and making pottery is apparently harder — and a lot messier — than it looks in the movies. We've decided to keep the wheel, but we're now looking to buy a new television, couches, a rug and new paint for the walls and ceiling.
And next year, I think I'll just BUY her an ashtray.
My Amazon Review:
What's more romantic than the image of John Cusack with his boombox in "Say Anything," playing sweet Peter Gabriel nothings to his sweetie? This sturdy, durable throwback cassette-and-CD combo player was perfect for me to recreate the scene. I downloaded a copy of "In Your Eyes" on MP3, burned it to CD, dubbed it over to a blank tape, and I was all set.
Of course, my wife and I live in the same house, so I couldn't very well serenade her from the street. Plus, it's cold outside, and the neighbors already give me funny looks. So I decided to stand outside our bathroom door after her shower one morning. Me romantic, her naked — perfect.
Unfortunately, holding this oversized bulky monster over my head for four-plus minutes wasn't the best idea I've had. And all that re-re-recording of the song made it come out all muffled and tinny through the detachable speakers. One of which detached during the chorus and bonked me in the head. By the time the song was over, I was collapsed under the boombox in a heap on the floor, and my wife — wrapped demurely in a towel — cracked the bathroom door to ask:
"Did you just say something? I had the blow dryer on."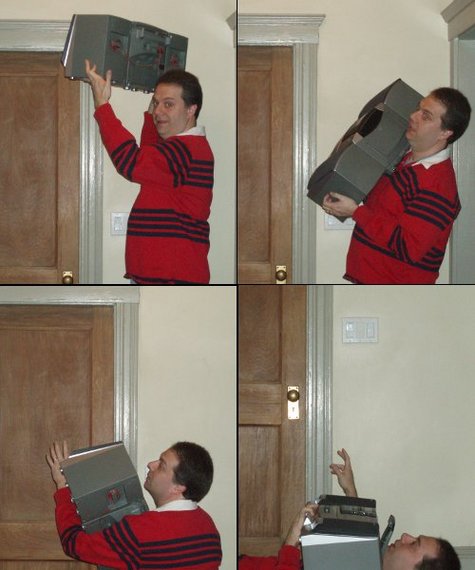 …In your eyes… (I'm on my back) …In your eyes… (It's a heart attack) … I feel the weight… of a thousand pounds a-crushing…
So I'm still in the doghouse, and may have suffered the first Lloyd Dobler-related hernia on medical record. Outstanding.
My Amazon Review:
These Necco hearts are a great tradition; I thought they'd really take my wife back to the good old days when we'd sit and pass them back and forth, cooing the messages to each other. (But hopefully not back to the time we actually tried eating one, and everything tasted like used blackboard for a week.)
I opened the bag and looked at a few, and I have to say that I was a bit disappointed. Maybe the slogans just seemed more sentimental back then, but ditties like "U R 2 CUTE" or "BE MINE" just weren't doing it for me. Where was the "GR8 CABOOSE" or the "HOMINA HOMINA" or "U MAKE A KILLER TUNA CASSEROLE"? I needed these candies to be special — to make her feel like a queen for a day.
So I did a little "editing." I grabbed a Sharpie, took a handful of hearts, and licked off all the messages. Then I wrote in my own, put them back in the bag, and started another handful. I don't know whether it was the Sharpie or all the candy I was ingesting, but eventually I keeled over in a haze of marker fumes and chalk dust. My wife found me passed out with "ASK ME ABOUT MY UNDERPANTS" stuck to my forehead.
The queen was NOT amused.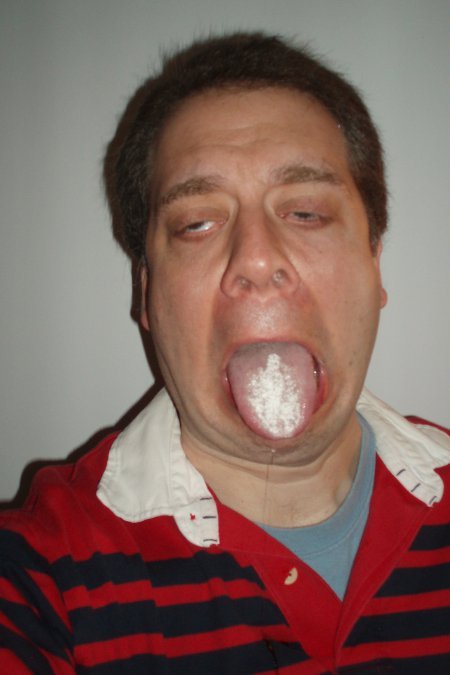 Oh, you may not want me NOW — but just wait until I lick a love poem onto your sidewalk, baby. Giggity goo.
My Amazon Review:
One of the most romantic things I can think of would be to write a love message to my wife in the sky. But I can't afford an actual skywriter, so I figured this RC plane would have to do. At least I could "sky"-write a message to my sweetie in our living room. The whole world might not see it, but at least the dog would be entertained.
I bought this plane and spent a few days getting my loop-de-loops and barrel rolls down until I was pretty good with it. The controls were pretty intuitive, and the plane very responsive and maneuverable; just what I was looking for.
Sadly, it was then that I found out there's no "smoke canister" attachment sold for this model. I wasn't sure if I could still use it, until I got the bright idea to light a little ball of paper and attach it to the tail. I couldn't turn the smoke off, but at least I could profess my love in aerial cursive. How romantic is that?
Of course, futzing with the tail fin threw the controls out of whack a little. On my first trial run, I lost altitude coming out of a spin and the plane careened into the drapes. Which caught on fire, naturally. And singed the magazine rack next to the window, and pretty much reduced the plane to a charred melted heap of nothing. I had a little dust bunny Hindenburg, right in my living room.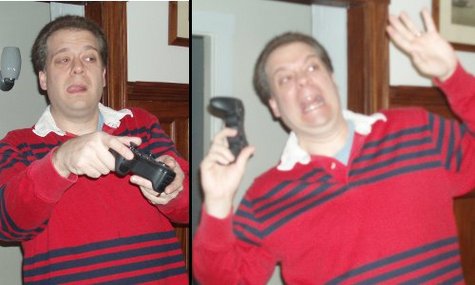 Okay, I'll just cross the "t" in "poopchute" and… OH, THE HUMANITY!!!
So now I'm getting the missus new drapes for Valentine's Day. And I've agreed not to try operating aircraft, remote controls or fire for the foreseeable future. Not as "romantic" as I might have liked, perhaps, but it seems like a fair trade.
Join in on the prank! Click the links to see each real-life Amazon review, then mark them as "helpful" so they rise to the top of the list on Amazon. Or click here to read and rate the entire library of Zolton reviews!
Permalink
|
No Comments