April 1, 2013
Zolton Does Amazon: Cirque du Jerk
I originally wrote this piece for MediaShower.com, for use on the late, great comedy site ZuG.com. Text and images published here with permission.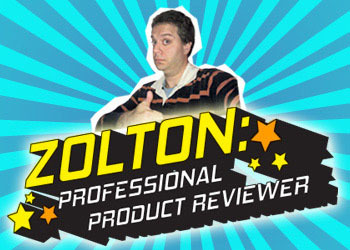 Last weekend, my wife dragged me out to see Cirque du Soleil. I was skeptical, to say the least. If Loverboy, Celine Dion and that girl from How I Met Your Mother have taught us anything, it's that French Canadians and artsy performances do not mix.
Still, I gave it a go. And as I watched, a magical thing happened. Somewhere between the plum-smuggling club jugglers and the bendy girls who can eat lunch off their own rear ends, I remembered: I always wanted to be in the circus. Performing under the big top, dodging mounds of elephant scat, picking up hobos and dressing them as clowns — yep, that's the life for me.
Tragically, I never gave it a shot. I always figured my lack of talent, fumbly fingers, fear of heights, generous size, brittle joints, two left feet, terrible aim and severe caramel corn allergy would keep me out of the circus forever.
But why quibble with reality when Amazon.com is right here with everything I need to realize my big top dream? If you've always wanted to run away and le join le Cirque, read on for a game plan to make it happen — and my actual Amazon reviews of all the products listed. Maybe you can join me in the big show someday. If nothing else, we're always looking for more hobos.
My Amazon Review:
I figured I should look the circus part, so I ordered a pair of these tights. And when they say "tights," they're not just whistling Dixie. In fact, if they were wearing a pair of these, I'm pretty sure they wouldn't be ABLE to whistle. Or breathe, especially. I sneezed while wearing mine, and blew out a big toe.
On the same note, they're not especially flattering on certain body types. I checked myself in the mirror, and it looked like somebody had stretched cheesecloth over two lopsided watermelons. I'm not even going to say whether I was facing front or back at the time. Just be glad this isn't a video review, is all I'm saying.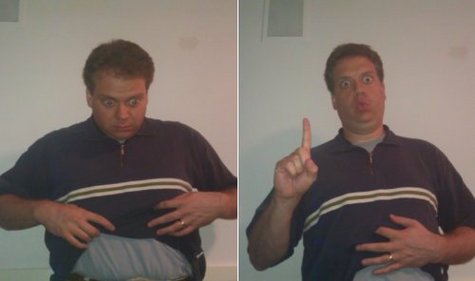 I'm not sure whether there's such a thing as "Brontosaurus Toe." But I'm quite certain you do NOT want to see it. You're welcome.
My Amazon Review:
Everybody loves a clown, so I bought this kit to work on my over-aggressive cheek appling and "Whaaaa?!" eyebrows. The paint was great — easy on, easy off, no mess and no stains. I scared the bejeezus out of my wife by waking her up with a wide variety of painted-on faces, so it definitely works. She has a "clown thing," it turns out — some sort of early trauma involving a McDonald's Happy Meal. So everybody loves a clown but *her*, evidently.
Sadly, I didn't get to use the whole kit, because my dog got into it after the first couple of days and lapped up the rest of the paint. It's non-toxic, so it doesn't seem to have hurt her — but taking her on bathroom walks has been a lot more interesting since then. When she squats, it's like opening a bag of Skittles. I might buy another kit and add it to her food, just to keep the neighbors' stares coming.
My Amazon Review:
You can't have a circus without jugglers, so that seemed like an easy way for me to get into the ring. I bought this set, thinking that "Complete" meant it would have everything I'd need to learn to land a big top job.
Not so. This set only has balls, scarves, pins, rings and a plate. That's it. Where are the knives? The chainsaws? The bowling balls and flaming torches and long-handled hatchets? "Complete"? Hardly.
Still, I figured I could at least learn the "remedial" stuff before sending it back for a refund. So I tried juggling the pins. Three bonks on the head, two smashed toes and a Heimlich maneuver later, I think I might go a different career direction than juggler, after all. Unless maybe the chainsaws are actually easier. I should give that a shot first, just to be sure.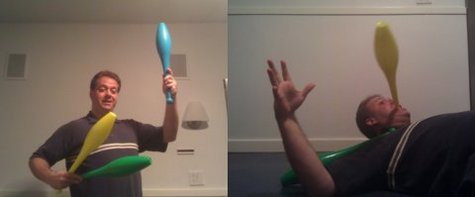 As it happens, this is approximately how most of Paris Hilton's "juggling" performances end, too.
My Amazon Review:
My favorite part of the circus is all the aerial acts — artists swooping back and forth and looping overhead like a flock of graceful, wingless non-pooping birds. I'll have to work my way up to the hard stuff, but I bought this swing to practice some basic moves — flips and throws and somersaults, nothing too difficult.
Unfortunately, I live in a condo, and I don't have anywhere outside to tie it up. So I asked my wife if I could hang it on the shower rod, and practice stunts in the bathroom. She said I could put it there just as soon as I could do a running backflip and land in the tub. So I tried.
That didn't go well.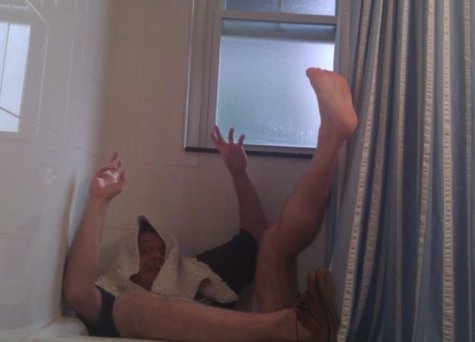 Does giving yourself an involuntary Pert Plus enema count as "sticking the landing"? I need a ruling down here.
When I'd mostly healed, I suggested that since we already had the swing, maybe we could just hang it in the shower for more … "romantic" pursuits.
She said I'd have to do a DOUBLE backflip for that. So it looks like I'm going to need a good chiropractor — whether I manage to land this move or not.
Join in on the prank! Click the links to see each real-life Amazon review, then mark them as "helpful" so they rise to the top of the list on Amazon. Or click here to read and rate the entire library of Zolton reviews!
Permalink
|
No Comments