April 1, 2013
Zolton Does Amazon: Fantasy Football FAIL
I originally wrote this piece for MediaShower.com, for use on the late, great comedy site ZuG.com. Text and images published here with permission.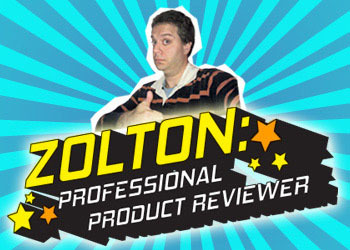 It's September — the time of year when the thoughts of all beer-blooded American men turn to one thing: FOOTBALL.
Most of us don't actually play football, of course. Fat, drunk and stupid is no way to gallivant around a gridiron. Vince Lombardi said that, I think. Either him or my Pee-Wee League coach. Somebody.
That leaves the last bastion of hope for talentless pigskin junkies like myself — fantasy football. It's a pastime that exists solely to drum up interest in otherwise unwatchable games: "Hey, let's sit through three hours of the Seahawks and Rams drooling on each other to see if my backup long snapper recovers a fumble!" It's also a two billion dollar a year sports industry — and based on how terrible I am at fantasy football, most of that money was probably mine.
But not this year.
This season, I'm determined to bring home fantasy gold. I finally found a league I figured I could win — the local Junior Girl Scouts chapter had an opening — and prepared for my high-stepping coast to victory.
This is what I'm up against. They wouldn't know a zone blitz from a Dairy Queen Blizzard. How hard could it be?
As usual, I got some Hail Mary help from my trusty tight end Amazon. Let's go to the replay:
My Amazon Review:
I'm not above a little intimidation. Sure, I had this league wrapped up the moment I joined — when you say "Montana," these girls think you mean "Hannah," not "Joe" — but one should never underestimate the competition. I wanted to show up at the league draft with a show of confidence — and what oozes fantasy football swagger more than a shirt that reads: "I PLAY FANTASY FOOTBALL! WHO'S YOUR DADDY?" Perfect.
When the package arrived, I noticed two teensy details I'd overlooked. First, the shirt was meant for a toddler. Which meant that I could wear it as a nifty bandana, maybe, but modeling it as a T-shirt would be ill-advised for both myself and the garment. And anyone nearby with a weak stomach or fashion police affiliations.
Secondly, it seems that the shirt does not, in fact, ask the cocksure, swaggery question "WHO'S YOUR DADDY?," but instead announces that I play fantasy football "WITH MY DADDY." Which is not the same thing at all — and certainly not true. I haven't played fantasy football with my father since he suggested I draft Ryan Leaf in a "keeper" league a few years back. Or spoken to him, for that matter. Blood may be thicker than water, but sucky QB advice trumps everything.
Other than that, I guess — nice shirt.
My Amazon Review:
A good draft guide is crucial for fantasy success, and I needed a doozy. While the Brownies were oohing and aahing over their Ken and Barbie dolls, I'd be drafting the next Ken (Stabler) and (Tiki) Barber. Yeah, that's right, girls. Buuuurn.
I'd read good things about this guide — and had stopped paying attention to football by Week Two last year, when my starting quarterback left football to join a monastery — so I needed a little refresher. I picked this book up and squeezed it for every stat, ranking and strategy it had. By the time the league met up for the draft — in Susie Thompson's treehouse over "tea," as it happened — I had a plan ready to draft the bejeesus out of those pigtailed pigskinners.
Unfortunately, I failed to notice that this guide was for the 1998 NFL season. Which made it older than anyone else in the league. And entirely useless as a draft tool. While I couldn't believe my luck that Terrell Davis, Randall Cunningham, Steve Young and Barry Sanders were all there to pick, the rest of the room couldn't believe that they actually existed. Probably because all those players retired before these little squirts were even BORN.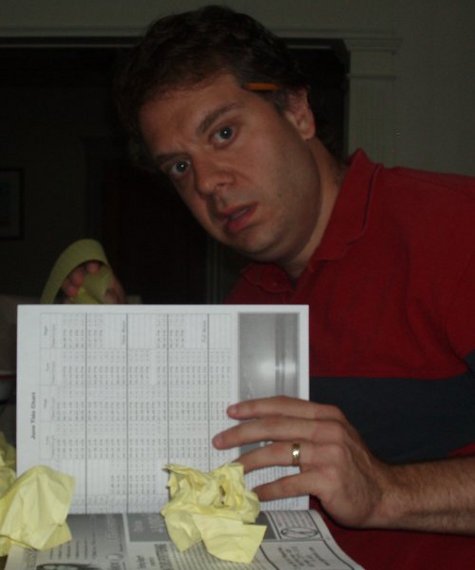 "The 'Houston Texans'? That's not in my book! Is that a real thing?"
Suffice it to say the draft didn't exactly go as planned. And at a dollar a pop per transaction, it took a pretty penny to swap all those old farts out for real players the next day. Little league commissioner Susie can probably afford to serve champagne and caviar at her next treehouse shindig.
My Amazon Review:
I bought sixteen of these pennants, one to give each of my "victims" after my pretend team of stars beats their starry-eyed team of pretenders into the virtual AstroTurf. I say, if you're going to be a winner, why not be a SORE winner? These little girls need to be taught a lesson — and that lesson is: taunting might get a penalty in the NFL, but your Dad's not a referee, there, shortcake. So nyah!
Of course, that was before I based my team draft on a fantasy guide written approximately when Joe Namath was still playing the game.
And it was certainly before Week One, when sweet little Prissy Walker took time away from earning her "My Pretty Pony Tail Braiding" merit badge to beat the unholy snot out of my team, 138-19. We just got obliterated. By a girl named "Prissy." That's like losing a fistfight to Cindy-Lou Who, where you get first punch. I certainly hope my pretend team of scrubs is as virtually embarrassed as I am.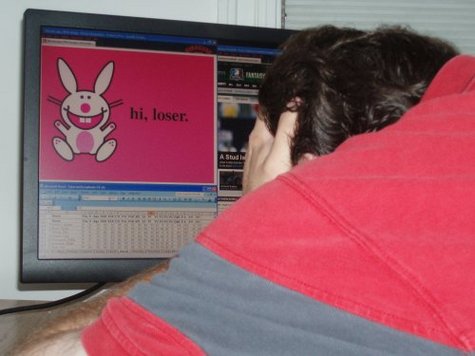 Hey, you can't taunt me, kid. I DO THE TAUNTING AROUND HERE!
As for these pennants, I don't know what to do with them now. That kid I just played came in dead last the season before, so I don't foresee having many "victims" to hand them out to. Maybe Prissy can braid them together into a noose for my playoff hopes.
My Amazon Review:
One week in, and my team is in shambles. The draft is butchered, my money's down the tubes, and we just got destroyed by a ten-year-old girl named "Prissy." With fifteen more weeks of humiliation on tap, I remembered the one sparkling bit of wisdom I once heard about fantasy football:
"FANTASY FOOTBALL SUCKS."
So I give up. If you can't beat 'em, join 'em. I disbanded my team, bought this handbook and I'm well on my way to merit badges for "Bracelet Weaving," "Barbie Dressing" and "Cupcake Frosting." I don't know how many you need to start earning those little boxes of cookies, but I'm looking forward to scarfing Thin Mints all winter long. While I'm NOT WATCHING FOOTBALL.
Also, I'll be staying away from Chapter Seven of the Handbook: "Dominating Chumps in Fantasy Sports for Fun and Profit." Those sneaky little minxes.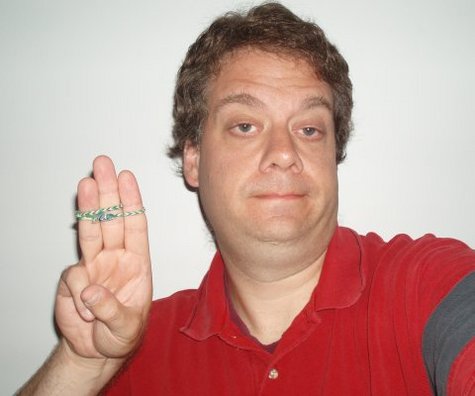 Yeah, that's a friendship bracelet, Prissy. But 'BFF' doesn't mean what you think it means, sister.
You can help with this prank! Click the links above to see each real-life Amazon review, then mark them as "helpful" so they rise to the top of the list on Amazon!
Permalink
|
No Comments