April 1, 2013
Zolton Does Amazon: Privacy, Please!
I originally wrote this piece for MediaShower.com, for use on the late, great comedy site ZuG.com. Text and images published here with permission.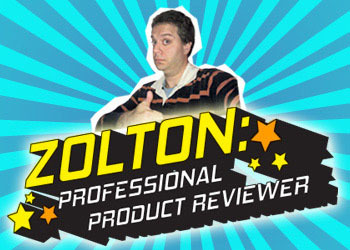 These are troubling times for those of us concerned about personal privacy. Every single day, I see, touch, say, buy, eat, listen to, wear, think and ride things that I don't want anyone to find out about.
In this age of identity theft, government surveillance, and airport screeners intent on blurring the line between "frisking" and "fisting," how can we possibly keep our shameful secrets secret? What are we to do, when there's nowhere to run, but so very much to hide?
I've been boning up on all the latest personal privacy gadgets — and found that they're really expensive. If I bought all those fancy gizmos, I'd have nothing left worth protecting. But fear not, fellow deviant citizens, for I found several perfectly good — and affordable — alternatives on Amazon. Lucky for you, there are a few secrets I'm willing to share:
My Amazon Review:
The last thing I want is some stranger rummaging through my personal correspondence. So I hooked this baby up, drilled a couple of holes by the front door, and electrified the mailbox.
This way, if anyone comes snooping around to sneak a peek at my mail, they'll get a letter, all right. The letter "EEEEEEEEEEEEEE!!!" And maybe a new frizzy hairdo.
Of course, I didn't want to jolt my friendly local mail carrier. So I set the power supply on a timer — it's off between 8:00 and 10:00 am. But when the clock strikes ten — *bzzzzzzzztttt*!
Unfortunately, I forgot to tell the mailman right away, and he had a few … "accidents" before we touched base. I had to hose off the porch a couple of times, and touch up some singe marks near the mailbox. But on the bright side — nowadays the mail is ALWAYS on time. He delivers by 9:30, never a minute later. And you know, the afro look really suits him.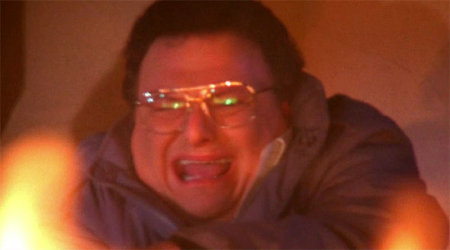 NOTE: Not my actual letter carrier. My mailman is slimmer. And MUCH more flammable.
My Amazon Review:
I've always got a ton of papers lying around that prying eyes shouldn't see. Bank statements, bills, old receipts, court documents, love letters — and some of those are even mine! I looked into heavy-duty shredders, but they're so expensive, and all they do is cut up documents. I wanted something more versatile.
Enter this Oster 16-speed blender; it handles just about anything I can stuff inside it. The "whip" setting works great for single-pagers, while "frappe" reduces an entire phone bill to confetti in seconds. I can throw a banana and a scoop of ice cream in with some credit card statements or old tax returns, and "liquefy" myself a refreshing wood pulp smoothie. It's great for a mid-morning pick-me-up — and the "Sunday funnies margaritas" are to die for!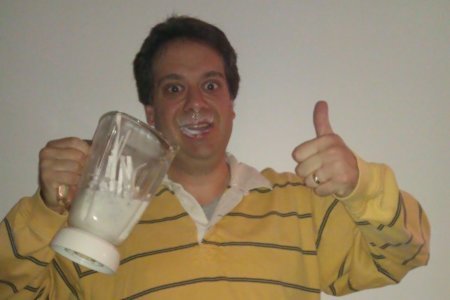 Old court orders and Vicky's Secret catalogs never tasted so DELICIOUS!
My Amazon Review:
I've read about this wiretapping business. Well, I for one don't need my government or my employer or my dog's therapist listening in on my private conversations. Of all the bug detection or removal devices I found, this one was the cheapest, so I gave it a try.
At first, I thought it was odd that Harley-Davidson was in the anti-espionage business. But then I remembered some of the biker shows I've seen — those guys had a LOT of stuff to hide, too. It just makes sense that Harley would help their riders out.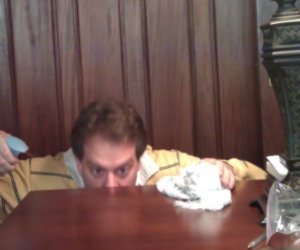 That pine-fresh scent tells me… nobody's listening.
As for the product, it works like a dream. Like the description says, it "cleans, shines and protects while removing bugs" — I just spray it all over every surface of a room I'm walking into, wipe it in, and I know it's washed away any sort of recording or eavesdropping doohickey that was planted there. Even better, it "leaves behind a protective microscopic finish," so I don't have to spray the same room down again. Awesome! Harley-Davidson: your Hog-riding partner for personal privacy.
My Amazon Review:
Keeping nebby nudkiks' noses out of my stuff is one thing — but what if they find a way into my HEAD? Better safe than sorry, so I picked up this guide to fashioning my own foil deflector beanie to keep the mind control rays at bay.
After a week in my very own tinfoil toupee, I felt so free, so un-controlled, that I resolved to protect the rest of my family. I made more hats — one each for my dog, my laptop computer, and my cell phone.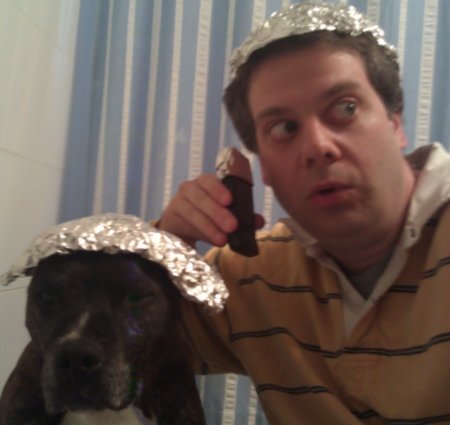 I don't know why I bothered. The mutt hasn't had a thought in eleven years that didn't involve Snausages.
I made one for my wife, too, but she refused to wear it. She said I was talking crazy — "they" must have already gotten to her, I figured. Still, I couldn't give up hope. So I sewed foil into the lining of her jacket, and her warm winter gloves. And all of her underwear. So she's at least got SOME protection. But if she ever goes commando on a warm summer day, I fear I'll lose her for good.
You can help with this prank! Click the links above to see each real-life Amazon review, then mark them as "helpful" so they rise to the top of the list on Amazon!
Permalink
|
No Comments