April 1, 2013
Zolton's Facebook Pranks on Fitness Companies
I originally wrote this piece for MediaShower.com, for use on the late, great comedy site ZuG.com. Text and images published here with permission.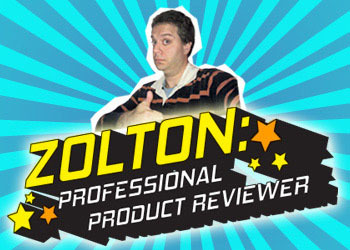 They say the way you spend the first few moments of a new year is the way you'll likely spend the rest of it. They also say "fat, drunk and stupid is no way to go through life, son".
Clearly, they're sending mixed messages on this one.
Still, a new year is a time for personal growth. And while I can't do much about one of my issues — and flatly refuse to address another — I can at least try to get in shape. Maybe "fit, drunk and stupid" was the key to everything, all along.
With that in mind, I made a series of health-conscious New Year's resolutions. And, as usual, I took to Facebook to get more information and to make a right steaming mess out of the whole endeavor. This is why I can't have nice things. Or skinny jeans, apparently.
Read on for the exercise in diet-and-exercise futility — and for my actual posts on the companies' Facebook walls. (Plus one; see below.) It may not take inches off your waistline, but you'll definitely feel the burn.*
* No actual burn promised or implied. Should you experience a burning sensation while reading, cease immediately and seek medical attention. Flush affected areas with water. Or tequila, if that's what you're into. We don't judge here.
The post: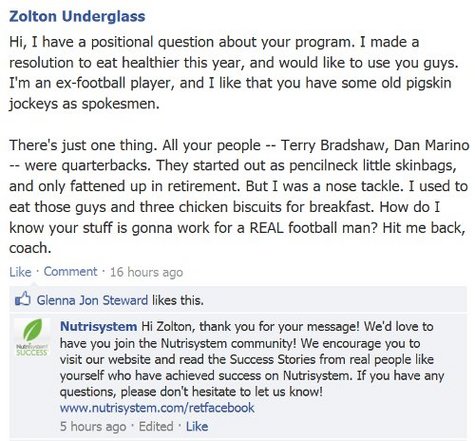 The post: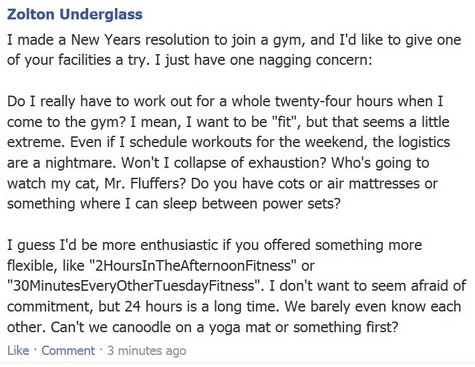 The post: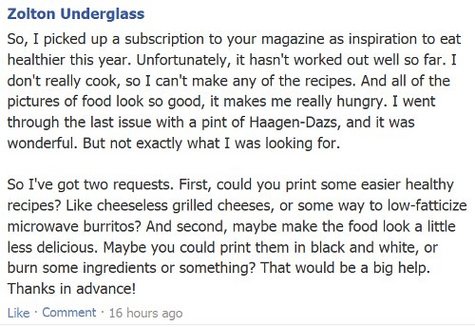 The post: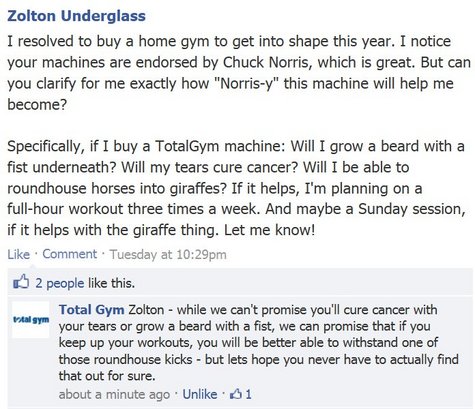 Postscript:
I originally posted the following to gym outfit Planet Fitness, as part of this exercise:
"I made a New Years resolution to join a gym, and I'd like to give one of your facilities a try. I just have one question:
I notice that you feature a "Judgement-Free Zone" in your gyms — so I'm assuming the rest of the facility is "Heavy-Judging", is that right? I'm just curious whether the no-judge zones are well marked, like with signs or ushers or a line on the floor or something. I don't want to accidentally wander into "Thunderdome Territory", in case my push-up technique isn't up to snuff.
Also, does the judgement-free area extend into the locker rooms? I'm… uh, asking for a friend. Thanks!"
I immediately got a long and rambling reply (from a PF member, evidently, not an 'official' Facebook spokesrobot), but within a few hours both my post and the reply had been deleted. From the Planet Fitness page. From my FB timeline. From the very interwebz itself!
Also, in what I believe is a first for this series, the Planet Fitness Facebook page has, so far as I can tell, banned me from making further comments on their wall.
For a bunch of "judgement-free" gym jockeys, they sure are quick to lay down a ruling. Makes you wonder if they were "judged" in the locker room themselves.
Last week, Zolton spread the Christmas toy cheer to LeapFrog, Twister, Furby and Toys R Us. Want to join in the prank? Click the links to see each real-life Facebook post, and comment or 'Like' them to generate more buzz. Or visit Zolton's own Facebook page!
Permalink
|
No Comments