April 1, 2013
Zolton's Facebook Pranks on Cereal Companies
I originally wrote this piece for MediaShower.com, for use on the late, great comedy site ZuG.com. Text and images published here with permission.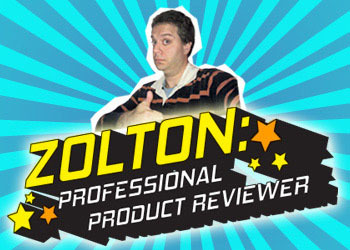 They say a good, balanced breakfast is the right way to start your day. And that sounds great; I'd love to start my day correctly — if only to get one thing right.
Unfortunately, I suck at cooking breakfast. My bacon is full of fail and sog. My "sunny side up" eggs look like they're covered in Beijing smog gravy. And the only practical use for my pancakes is to wrap valuables you intend to ship through the mail.
("Packing pancakes". Look for them soon at a UPS or IHOP location near you.)
So I'm relegated to that most humble of breakfast fare, the cold cereal. But do I let that get me down? You can bet your pair of sweet puckered McMuffins I don't. Instead, I search for breakfast nirvana. The creme de la Cream O'Wheat. The very best, highest-quality, tastiest cereals on the planet.
Or, you know, the ones with Facebook pages.
Read on for my quest to buy a better bran flake — and for my actual posts on the companies' Facebook walls. Soon, you'll be asking yourself, "doesn't a nice bowl of cereal sound good right now?"
(Wait. Did you say 'good'? Pffft. It's gur-rrreat!)
The post: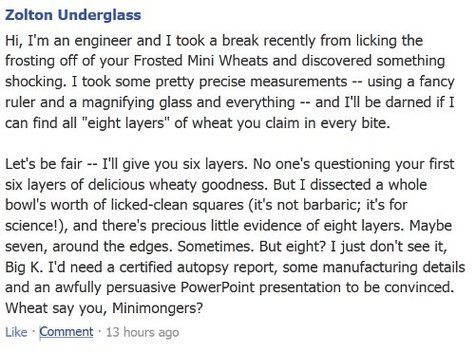 The post: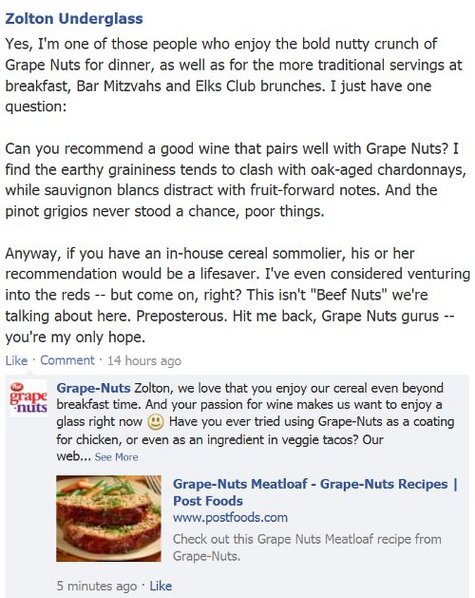 The post: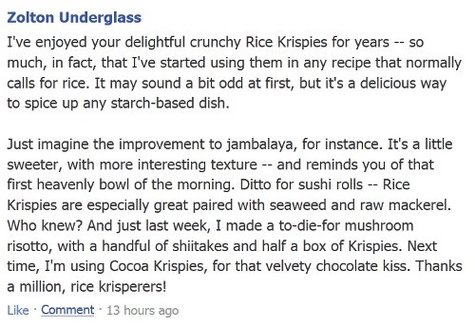 The post: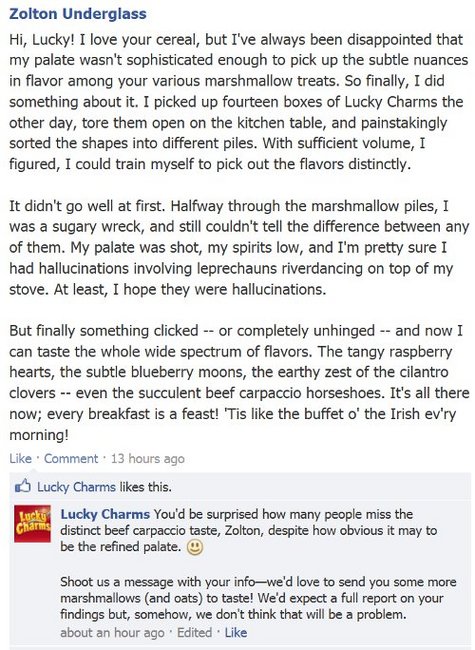 Last week, Zolton creamed his Twinkie with Little Debbie, Tastykake, Entenmann's and Moon Pie. Want to join in the prank? Click the links to see each real-life Facebook post, and comment or 'Like' them to generate more buzz. Or visit Zolton's own Facebook page!
Permalink
|
No Comments