April 1, 2013
Zolton's Facebook Follies: Mostly Greek to Me
I originally wrote this piece for MediaShower.com, for use on the late, great comedy site ZuG.com. Text and images published here with permission.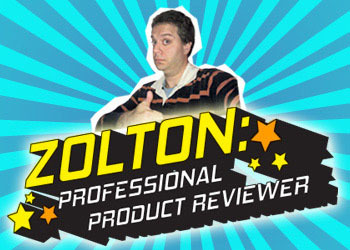 We owe a lot to the Greeks. As a nation and a culture, the Greeks have provided the very basis for our current Western civilization. After all, what would modern life be without democracy and philosophy and Telly Savalas and salads with crumbly cheese and statues of naked people with uncovered wangs?
Not the same, I tell you. Not the same at all.
But did the Greeks stop there? Oh, no. By Zeus' static-clinging pubes, they did not. They gave us an entire alphabet, so that we could communicate with each other. Presumably to talk about how nice Athens is this time of year, or how bland tasteless yogurt is better for some reason.
Of course, we don't use the Greek alphabet any more. We gave most of the letters to rowdy fraternity kids, who probably use them to pry lids off of beer bottles when there's no opener handy. The rest, we left to the math and physics teachers — the better to punish those hungover frat boys for their bacchanalian blowouts.
Still, there are a few companies who still go "old sigma-kappa-omega-omega-lambda" and use the letters of the ancients. This being Greek Week on Zug, I decided to pay them a visit. Read on for the results and my actual Facebook posts on these Hellenophiles' FB walls. Which are no doubt adorned with Ionic columns, and connected via aqueducts.
Because that's Greek stuff. Yeah. You see what I did there.
Naturally, I started with alpha. I was looking for a good cleanse, but had to settle for some old cream filling:
AlphaHydrox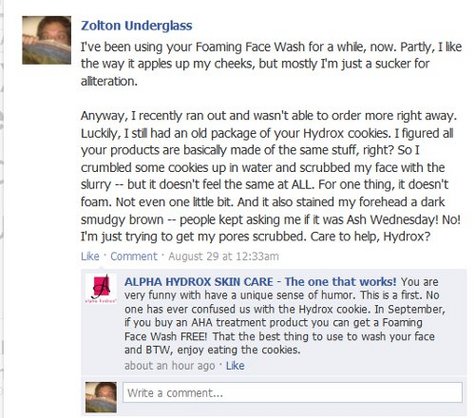 Undeterred, I set off in search of clarification about my dog's diet. Evidently, the Greek crowd have forgotten about semantics — which they probably freaking invented, too:
Gamma2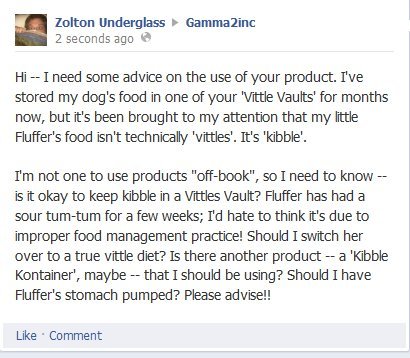 Moving along through the Greekabet, I asked whether Delta (Delta Delta!) could find a way to help mah help mah help mah! Their response was as dry as their damnable spigot:
Delta Faucet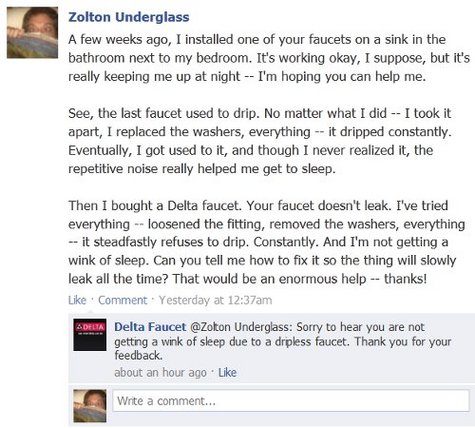 I've been told that the end of all things is the Omega. But no! I stumbled onto something called the Omega Plus! Only, I don't seem to qualify, because I'm not currently wandering around Southeast Asia:
Nestle OmegaPlus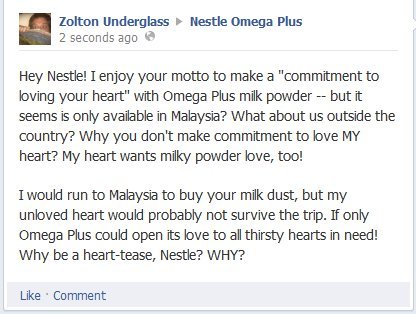 So were these Greek-lettered companies as helpful as their ancient inspirations? Hardly. Going Greek doesn't get you as far as it used to, I guess. Maybe they're all busy taking their economy — which they invented — and flushing it down the toilet. Which they also invented, probably.
Pull it together, Greekers. Seriously, people. Omega. Mu. Gamma.
Last week, Zolton snuggled up next to Pillsbury, TempurPedic, Downy and Cottonelle. Want to join in the prank? Click the links to see each real-life Facebook post, and comment or 'Like' them to generate more buzz. Or visit Zolton's own Facebook page!
Permalink
|
No Comments