April 1, 2013
Zolton Does Amazon: Up and At 'Em!
I originally wrote this piece for MediaShower.com, for use on the late, great comedy site ZuG.com. Text and images published here with permission.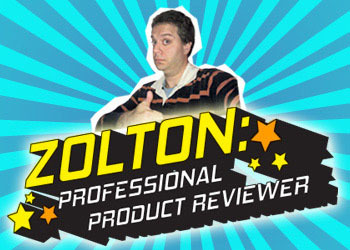 I'm not what you'd call a "morning person." Hell, I'm barely a "noon person." I tolerate the A.M. hours in much the same way Superman would endure a kryptonite G-string — with lots of fidgeting and sweating and complaining about the enormous pain in the ass it's causing.
Still, there are days when I have to wake up before the crack of twelve. My boss claims there are five such days in every week, which sounds like an awful lot. Of course, he also claims there's no such thing as "Pantsless Fridays," so I take everything he says with a grain of salt. And an Ambien.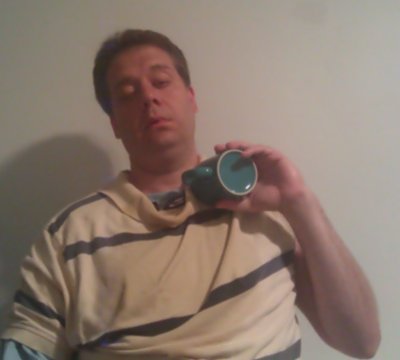 The author, in his usual pre-noon stupor.
But I do occasionally have to "rise and whine" in the early morning, so I need something of a pick-me-up. A start-of-the-day boost to get me up and at 'em. Or up and near 'em. Frankly, I'd settle for semi-conscious and not drooling on 'em. I'm taking baby steps here.
Clearly, I needed some help in getting myself out of the sack and raring to go. So I turned to the raringest folks I know over at Amazon to stock up on a variety of stimulating products and wakeful aids. Read on to see my actual Amazon reviews of all the products tested — and to find out what happens when you deny your body the sleep it so desperately needs at ten thirty in the morning.
Don't try this at home, kids. I'm a professional.
My Amazon Review:
I bought this alarm because the reviews said it was LOUD. I'm perfectly capable of sleeping through three hours of beeping or NPR — or Bavarian honking yak polkas, for that matter — so I need an alarm that turns the wakey decibels up to eleven.
This one certainly didn't disappoint, blasting out enough noise yesterday morning to blow me halfway across the room. When I came to my senses and realized I hadn't been moved in my sleep to a 747 jet turbine convention, I set about turning the monstrous thing off.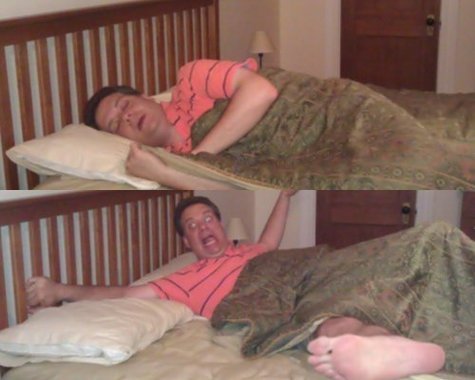 "I'm awake! My sphincter is somewhere in the closet, but dammit, I'm awake!"
Sadly, I had neglected to read the instructions the night before. So I didn't know how. And with all the racket, I couldn't figure it out, either.
For three hours, the alarm went off like an over-amped sonic lighthouse. The neighbors upstairs complained. The neighbors downstairs complained. Ditto the neighbors down the street. Some guy from the next town over got into his car, drove over and told me to keep it quiet already. Finally, mercifully, I fiddled the alarm into silence.
Until this morning, when it went off again. At least, I assume it did, because I'm getting all sorts of nasty emails and notes shoved under my door. But since yesterday, I can't hear a thing. So I slept til noon, can't use the alarm any more, and I'm packing it up and shipping it back. I just hope the battery runs out before I get it to the post office. Those postal workers are skittish enough, as it is.
My Amazon Review:
Often I'll wake up groggy, and simply fade back into blissful sleep. So I bought these smelling salts to keep on the nightstand. One whiff of one of these babies, I figured, and I'll be wide-eyed and sinus-cleared, ready for whatever the day throws at me.
In that sense, the packets work great. Waft one under your nose and you'll forget all about sleeping. Or smelling. Or what your name and address are, most likely. They should call these things "amnesia inhalants"; one tiny snootful, and your whole world is awake in a funky fog.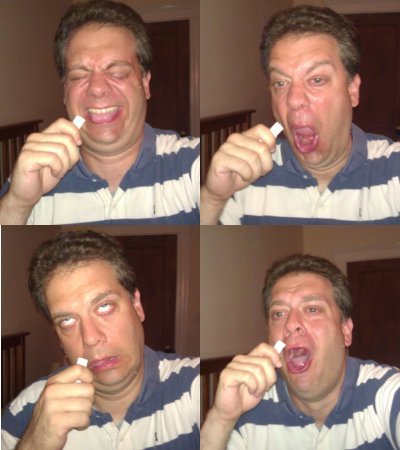 Oh, one sniff was probably enough. But where's the fun in that?
The only downside is, the smell tends to linger. With the pack on the nightstand, my entire bedroom smells like ammonia. For the last three nights, I've dreamt of nothing but industrial solvents and cleaning old urinals. Which is precisely the sort of thing I'm going to sleep to _forget_. Calgon, take this ammonia away!
My Amazon Review:
I've always heard good things about these 5-hour energy pills, and extra-strength is always better, so I bought some to help shake the cobwebs after waking up early.
I popped the cap on one, slugged it down, and… OHMYGOD I CAN TOTALLY FEEL THE BLOOD IN MY FINGERS, ONLY IS IT ME FEELING THE BLOOD OR THE BLOOD FEELING ME? OH WOW THAT'S DEEP, IF ALL THE PENS WOULD STOP VIBRATING OFF THE DESK I WOULD TOTALLY WRITE THAT DOWN.
WAS THAT ROD SERLING I JUST SAW? WAIT, NO. JUST A PAPER CLIP. BUT THAT PAPER CLIP TOTALLY LOOKED LIKE ROD SERLING FOR A SECOND. FROM MY ANGLE. AND WITH THE SEIZING, IT WAS THE SPITTING IMAGE, I SWEAR. ROD SERLING OR ROSIE O'DONNELL, ONE OR THE OTHER. YOU COULD LOOK IT UP.
DOES ANYBODY TASTE PURPLE? IT TASTES LIKE PURPLE IN HERE ALL OF A SUDDEN. ROD, PURPLE? NO? MAYBE JUST ME, THEN.
MAN, I SURE CAN'T WAIT UNTIL THIS ENERGY DRINK KICKS IN. YOWZA.
My Amazon Review:
My wife gets up before I do, so I made her a deal. Every morning I need to get up early, she tosses one of these packs into bed with me before she leaves the house. The idea being that the cold would instantly freeze me into my senses.
Instead, it's turned into a battle of wills. These packs are good for maybe fifteen minutes of frigid cold. I know that if I just suck it up and wait, it'll warm up and I can go back to uninterrupted sleep. So far, the wildcard has been placement — if she slaps it on my back or legs, I've got a fighting chance. If she goes for the feet or stuffs it down my boxers, then I hop out of bed immediately. And walk funny down the hallway to the bathroom to assess the damage. Mission accomplished.
(I offered to repay the "favor" somehow in our deal. Oddly, she said that ice-bombing my snoring carcass at the crack of dawn was its own reward. Now I'm just worried that I can't get her to *stop*.)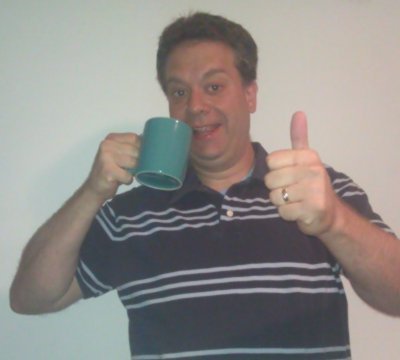 Me, after my wake-up helpers, at 8am this morning. I'm a whole new man!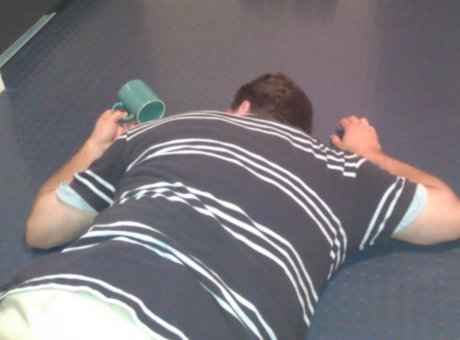 Me, at 8:02am. Somebody kick me when it's time for lunch.
Join in on the prank! Click the links to see each real-life Amazon review, then mark them as "helpful" so they rise to the top of the list on Amazon. Or click here to read and rate the entire library of Zolton reviews!
Permalink
|
No Comments