April 1, 2013
Zolton Does Amazon: Too Cool for School
I originally wrote this piece for MediaShower.com, for use on the late, great comedy site ZuG.com. Text and images published here with permission.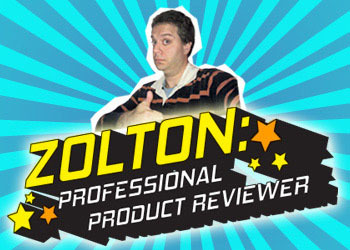 It's that time of year again — when millions of small children are flung, yelping and mortified, onto bright yellow buses bound for homeroom purgatories across the nation.
In other words: back to school.
Personally, I haven't attended school in years. I last had class back in the mid-90's (when striped shirts were the rage), but that doesn't mean I can't enjoy the season. Why should the Social Studies schlubs and Gymboree brats have all the fun? If we post-schoolers want to relive our halcyon — or not-so-halcyon — academic days in a bout of rat race-induced nostalgia, that's our perogative. It's as natural as pizza square cafeteria lunches, or wedgies in gym class.
But we'll need some help. That's where our old tutor Amazon comes in. Check out the "learning aids" below — and my actual Amazon reviews of all the products — to put the rock back in your schoolhouse. Take notes if you need to; this material will be on the test.
My Amazon Review:
I don't have a proper school desk — nor would my adult hindquarters likely fit into one without a weeklong fast, three quarts of Crisco and an oversized shoehorn. So I bought this lap desk to give some semblance of the old schoolhouse experience.
I used the desk on my couch, and it worked well for a while. It holds a book in place in roughly the same manner as a real desk — or a large block of wood, for that matter — might. But I'd forgotten how exhausting learning can be, which is where this lap desk really stands out. After ten minutes of slogging through "Intro to Classical Philosophy," I was exhausted. So I flipped the desk over, pulled up my knees and had a nice nap on the cushy beanbag side.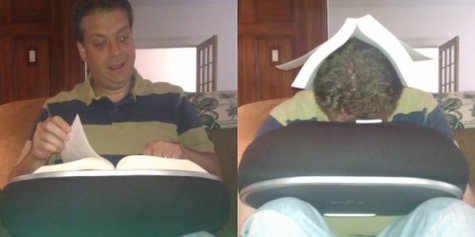 I snore, therefore I am.
I don't remember anything I read, but I did have a dream where Zeno and Socrates walked exactly halfway into a bar and ordered hemlock martinis from some guy sitting in a cave. Which is about as far as I ever got with that material, so I'm calling this a "win."
My Amazon Review:
I'm not QUITE old enough to have attended school where these handheld bells were in use, but it still reminds me of the old class bells telling us when to go to class, or to leave class, or to march our delinquent butts to detention hall. Again.
I've taken to using my bell in much the same way — to announce transitions from one place to another. I ring it when I leave the house for work, and again when I head for home at the end of the day. I ring it at noon for a lunch break, and approximately three hours later when my "recessiesta" is over. And, naturally, I ring it before and after bathroom breaks.
My wife argued the last point, saying that schools don't actually have preset potty periods scheduled. But I pointed out the ten minutes usually reserved between classes, and maintained that I'm acting in the spirit of the schedule design. She countered that if I "ring that godforsaken thing one more time because you have to go at two in the morning, I'm going to cram it where no one will ever hear it again."
I think she may have a point. I guess you're never too old to learn, after all.
My Amazon Review:
I gave a lot of thought to what was missing the most from my old school experience, and found the answer readily: there was no drinking. This flask-in-a-book takes care of that omission with the promise of a much-needed tipple after a long day spent conjugating verbs or memorizing times tables or climbing that stupid rope in the gym.
Since I'm not ACTUALLY going back to school, I decided to take it to work instead. It's a bit of a harder sell in an office environment — they don't actually assign book chapters as homework to read at my desk, unfortunately — but I'm making do. The hardest part is keeping the book in front of my face when I duck in for a secret swig or three. I think people may be getting suspicious; my boss keeps asking why I bring "Wuthering Heights" to every staff meeting, and why I end up passed out under the table by the end.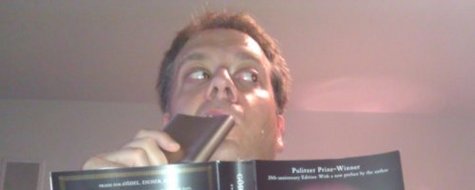 There is no one in the room who is NOT fooled by this brilliant ruse. NO ONE.
Clearly, I need to order a second book, to throw him off the scent.
My Amazon Review:
I never had a really hot teacher back in school, so I thought I'd shoot for one now. I bought this outfit and convinced — read: BEGGED — my wife to wear it for some steamy fun. She finally agreed, and put it on for me last weekend. I told her I'd been a baaaaad student, and needed some extra time with the teacher to catch up. She slid behind me with a stern look on her face, leaned in close to my ear and whispered…
"It's clear you're not applying yourself, mister. You read the next three chapters of Moby Dick, and I want a report on my desk first thing in the morning discussing the symbolism and themes as they relate to contemporary American society. Now march!"
Then she scheduled a meeting with my parents and made me sit in the corner for talking during "quiet time." Now I've got detention for a week, and a huge Latin test coming up. Why couldn't I have gone for the "Naughty Nurse" costume instead?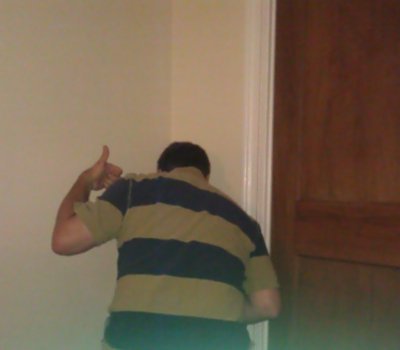 Yep, that's the school experience, all right. Just the way I remember it.
Join in on the prank! Click the links to see each real-life Amazon review, then mark them as "helpful" so they rise to the top of the list on Amazon. Or click here to read and rate the entire library of Zolton reviews!
Permalink
|
No Comments