April 1, 2013
Zolton Does Amazon: Serenity, When?
I originally wrote this piece for MediaShower.com, for use on the late, great comedy site ZuG.com. Text and images published here with permission.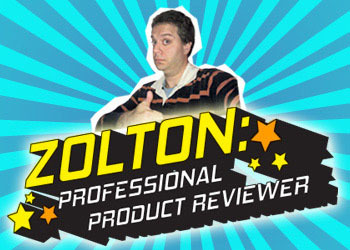 It's been a tough year so far. But finally, the freezing and the blizzards and dual pressures of Valentine's and Tax Day are behind us. I for one am ready to relax.
Problem is, I've forgotten how.
I've been puckered up so tight for so long, I'm afraid my puckerer may have frozen that way. So I logged into my old friend Amazon to find some products that could bring me back to a nice peaceful — and unpuckered — calm. And since spending too much money angries up the blood like shoveling out a Nor'easter or a visit from the tax auditor, I made sure to find my inner peace at a bargain price.
Pull up a Zen garden and take a leisurely stroll through my actual Amazon reviews of the products I found, and you can have a little taste of Nirvana, too. (It's like cough syrup. Only peacier.) Namaste, my puckery peeps.
My Amazon Review:
When my wife goes to a spa to relax, she always gets some kind of oatmeal facial scrub treatment. I don't know much about pampering, but I'm intimately familiar with a wide variety of hot breakfast cereals. If oatmeal on the face is relaxing, then I'd sure give it a try.
I heated several packets of the oatmeal in the microwave, per the cooking instructions, added a little milk and layered it onto my face. I'm not sure what's supposed to happen next in a "professional" treatment, but in my bathroom, a lot of it just glooped off into the sink. The rest felt … well, like oatmeal on my face. Sticky. Warm. Lumpy, in a way that was less "relaxing" and more "get it off my face-y."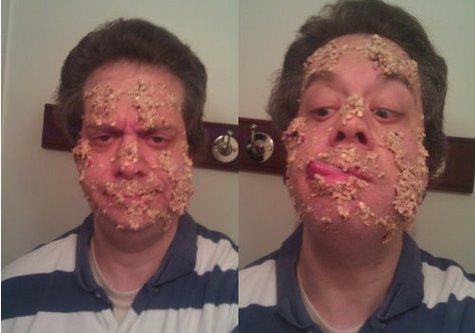 This is about as relaxing as doing a bukkake flick with the Sta-Puft Marshmallow Man. And — hey, is that a cranberry?
The oatmeal did smell nice, and made me sort of hungry, but I don't think I relieved any stress by putting it on my face instead of IN my face. Maybe next time I'll try wearing it with eggs over easy, or a rasher of bacon. Bacon makes *everything* peaceful.
My Amazon Review:
Those vibrating chairs and pillows and personal massage doohickeys look pretty inviting — but they're always so expensive. I figured it's the wiggling that does all of the work, so why not use a vibrating toothbrush to gently caress out my cares? Oral-B, take me away!
The only downside is that the head on this brush is rather small, so it takes quite a bit of rubbing on my neck, temples or back to have any real impact. And by the time I've worked out a big knot between my shoulder blades, say, I've created an even bigger one from holding the toothbrush in one place for so long.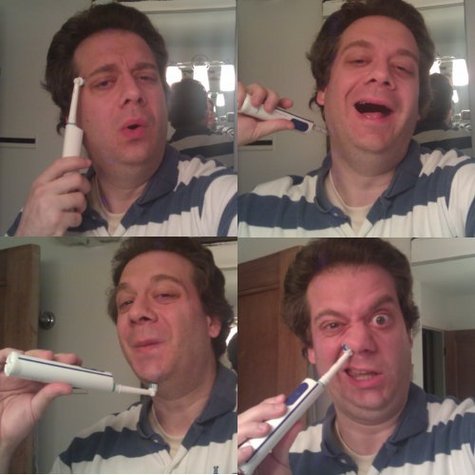 Like Icarus before me, I eventually flew too close to the sun.
If this came with some sort of clamp, or maybe a person to hold the brush for you, then it would be a nice massage tool for people. In the meantime, it's the perfect size to provide tension relief to my pet hamster. Mr. Nippers really seems to like our massage sessions. And his wheel running has been much looser and easy-going since we started. Nice product!
My Amazon Review:
Aromatherapy is a huge deal these days; they say the right fragrance can put you into a deeply relaxed state of mind. I chose this one because it sounded very soothing — and Sandalwood and Ginger are two of my all-time favorite stripper names. And those gals always smell good. It's a win-win!
Evidently, these are supposed to be used with some sort of diffuser reeds or burned with a candle or something. That seemed pretty complicated and expensive, so I didn't bother with any of that. I just carried a couple of bottles with me, and when I needed a quick calming jolt, I'd pop the caps off and double-barrel a big *sniiiiiiff* of the fragrance, up close and personal.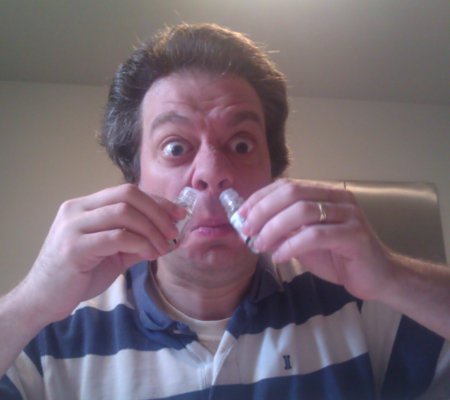 Well hello, girls. It's so good to smell you again.
Would I recommend this method? Probably not — I haven't been able to smell or taste anything but ginger-tinged wood for the last three weeks. The experience is probably a touch less "in your face" with the candle delivery system, or the diffuser reeds. Unless you're using the reeds as chopsticks, or shoving them up your nose like you have a sword-swallowing honker. Which I also wouldn't recommend.
So my experience is maybe less "relaxing," and more "intensely overwhelming." But hey — it sure is cheap. I've got two bottles of cinnamon fragrance on the way now. That ought to spice things up a few hundred notches.
My Amazon Review:
I've heard that the sound of gently-falling water can be very soothing and this seemed like an attractive product, so I gave it a shot.
Unfortunately, the proverbial "some assembly" is required for this contraption. Which would be fine if I were already calm and collected — but with all the nervous tics and twitches, it was nearly impossible. I dumped those little rocks on the floor a dozen times before I finally got everything stacked up and assembled. It was like playing "fifty-two pickup" — only with stones, and I was the one tricking myself. Very frustrating.
And when I finally did get the fountain set up, I found the biggest shocker of all: you have to provide your own water! It's a waterfall, sold WITHOUT WATER! Well, that was too much for me. "Water not included" was the last straw, and I tore the thing to pieces right there. It's all over the living room now, like some deconstructed Zen garden. A SERIOUSLY deconstructed Zen garden.
On the bright side, I do feel a little better now. I just needed to let off some steam, I guess. So I can't really recommend this as a fountain — but as a therapeutic punching bag, it's A-plus-plus! Would destroy in a tantrum again!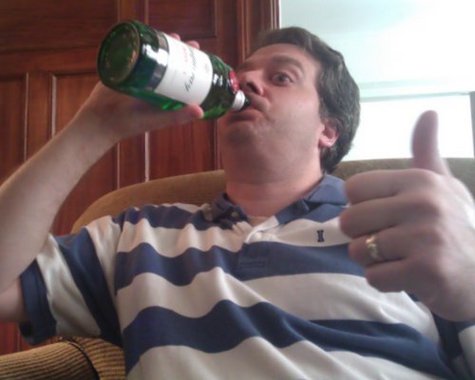 The author, "relaxing" in more traditional fashion while taking a break from product testing.
Join in on the prank! Click the links to see each real-life Amazon review, then mark them as "helpful" so they rise to the top of the list on Amazon. Or click here to read and rate the entire library of Zolton reviews!
Permalink
|
No Comments