April 1, 2013
Zolton Does Amazon: Practice Makes Party
I originally wrote this piece for MediaShower.com, for use on the late, great comedy site ZuG.com. Text and images published here with permission.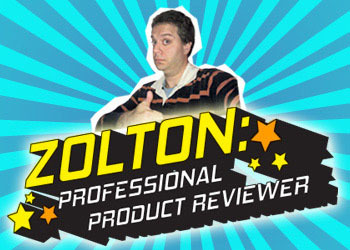 It's the most wonderful time of the year. The biggest holiday on the calendar — most right-thinking people would say the only holiday that matters — is right around the corner.
That's right, kids. Super Bowl Sunday.
Think about it. There's something for everyone on The Greatest Sunday Ever Played — Sports. Booze. Music. Greasy Food. Cheerleaders. Sometimes greasy cheerleaders. It's a veritable entertainment bonanza.
(Not like those other holidays. Please. What's Halloween but a prelude to a stomach ache? Christmas is for babies and Bible thumpers. Thanksgiving has "football", yes — but it involves the Lions, so we have to put the word in quotes. And is three hours of that really worth choking down your Aunt Greta's Jell-O salad?
Be honest, now. The old girl can't hear you.)
As a Super Bowl party host this year, I have the sublime honor — and enormous responsibility — to make the holiday magical. So last weekend, I held a dry-run Super Bowl party to practice. I didn't invite the good friends, or pull out the good bean dip recipe. But otherwise, it was a full-on fire drill version of the festivities to come. I even ordered a test set of supplies from Amazon for the occasion. And my pigskin shindig rocked. Call me Vince Lom-Party.
Read on for the post-party recap — and my actual Amazon reviews of all the products listed. Huddle up, children. The Super Bowl's a-comin' to town!
My Amazon Review:
You can't have a fiesta without salsa. And you certainly can't throw !EL FIESTA GRANDE! without a whole big bunch of it. And this, friends — this is a whole big bunch of salsa.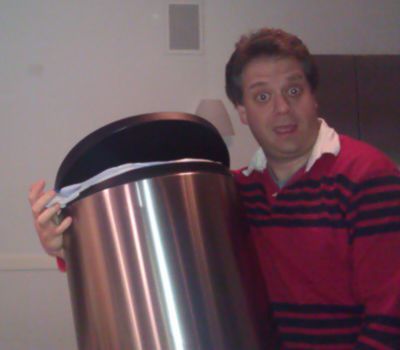 Seriously, who wants some effing salsa? Old El Paso's got nothing on this tub o' goodness.
I especially like that this salsa is kosher, because everyone should feel comfortable at a good party. In the middle of a huge bash — with bacon-wrapped scallops and six kinds of barbecue and a roasting pig on a spit out back — it's nice to be able to turn to one of my friends of another faith and say:
"Fear not, champ. I have twenty-five pounds of mild chili salsa sitting in a tub on the porch. It's all yours. Enjoy!"
Thank you, Kosher Tex-Mex Salsa Grande. Thank you!
My Amazon Review:
This year, the Patriots and Giants are playing. I'm expecting fans of both teams, and as host, it's up to me to keep the peace. So what do both teams have in common — apart from 400-pound millionaires, prima donna quarterbacks and a twenty-week work year?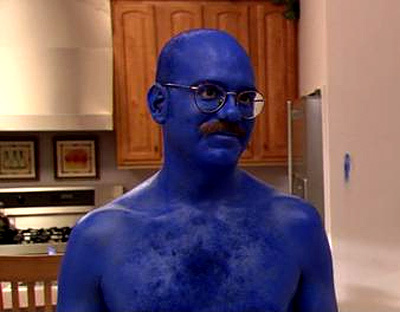 Saaaay … does this paint make me look like a Tobias?
BLUE. Both teams feature the color blue prominently — so why couldn't I? I Smurfed myself up from head to toe with this paint, and hosted from a fully neutral and impartial hue. Also, from a pair of visitor's-gray underpants. Because even the neutral need a touch of decorum.
My Amazon Review:
What's a Super Soiree without great music to get the crowd pumped? I picked up this set of "Sunday Sing-a-Longs," figuring on gems like "We Are the Champions" or "Hey-Hey-Hey Goodbye." Or "All My Rowdy Friends Are Questionable to Return After Suffering Possible Concussion-Like Symptoms Tonight."
But no. Turns out these are … "different" Sunday songs. Like, Sunday school. And though we tried singing a few, it's just not easy to work yourself into a sporting froth against your hated opponent while belting out "O Happy Day" or "Kumbaya."
So we changed a few words here and there, which worked wonders. Call me crazy, but if these guys would just re-record this album with "If You're Happy and You Know It, Spike the Ball" and "Michael, Row That Ball Right Down Their Freaking Throats," I think the crossover to sports fans would be a no-brainer. I'm just spitballing here.
My Amazon Review:
After the big game is over, folks will want to relive what they just saw — maybe even act out a few plays. Now, I can't afford one of those newfangled TiVo machines, or Madden NFL on some videographical gaming doohickey. But I bought this electic football board, and that can be JUST as realistic.
Granted, most of the actual players don't run in little circles during the play or fall over the sidelines repeatedly. Not since Ricky Williams stopped smoking, anyway. But we re-enacted a few plays from the last Patriots-Giants Super Bowl on this table, and it was uncanny how real it looked. Especially after one guy accidentally dropped a cocktail weenie on the field, and we decided to call it Eli Manning.
I'm telling you. UNCANNY.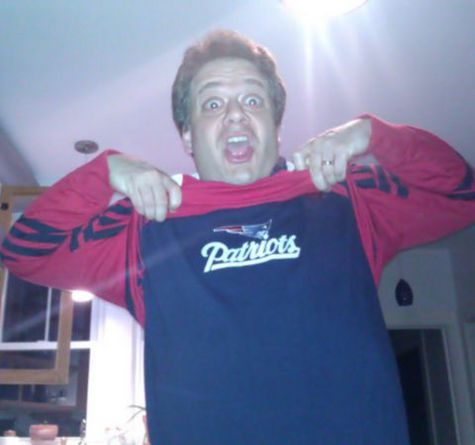 Aw, hell — "impartial observers" are for CNN and Fox News. Go Pats!
Join in on the prank! Click the links to see each real-life Amazon review, then mark them as "helpful" so they rise to the top of the list on Amazon. Or click here to read and rate the entire library of Zolton reviews!
Permalink
|
No Comments