April 1, 2013
Zolton Does Amazon: Home Sweet Home Office
I originally wrote this piece for MediaShower.com, for use on the late, great comedy site ZuG.com. Text and images published here with permission.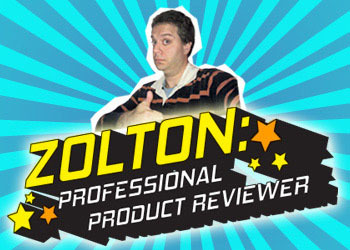 I've recently been given the opportunity to work at home. By which I mean, the boss told me that "nobody in this office wants to look at your dumb face any more."
"Opportunity," "ostracism." It's all semantics.
Whatever you call it, my face and I needed to set up a home office. And since we both believe in "Safety First!", we pledged to make our new workspace fully ergonomic. No carpal tunnels or wonky necks or bulgy strained eyes in this office. No, sir.
Of course, I needed a few "creative" office supplies to make it happen, and reliable old Amazon.com was there for me again. Read on to see how I took the home office "off the hook" — and read my actual Amazon reviews of all the products used. Ergonomics never hurt so good.
My Amazon Review:
I've seen the fancy gel "wrist rests" for keyboards. But those are expensive and squishy and when the gel sac breaks, what's it good for then? Ghetto hair gel? Replacement Vaseline? Emergency Jell-O? Pass.
I bought this pillow and used it to rest on when typing. On the downside, it's pretty tall, so it was tough to stretch my hands all the way down to the keys. I had to lean way over to see what I was typing.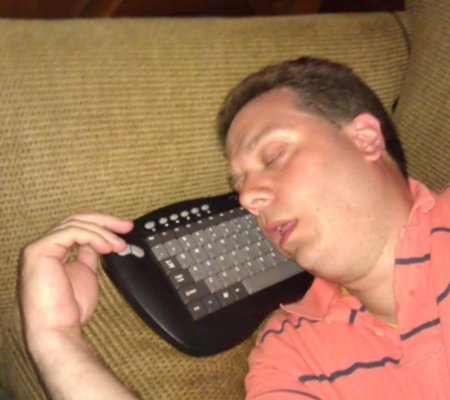 Now all I have to worry about is repetitive snoring syndrome. I can live with that.
Which was also the upside, because when that got tiring, I just fell over and took a nap. And this pillow is really comfortable, and tolerates being drooled on nicely. I don't know if I was sleeping "ergonomically," but it sure beat doing more TPS reports.
My Amazon Review:
I heard it's important to take frequent breaks while you're working at a computer, getting up every few minutes to stretch out and reset. So I wanted an ergonomic chair that looked a little awkward, thinking it would make me uncomfortable and remind me to move around.
I tried this chair out, but it's actually quite comfortable. I worked a whole day straight through without a single break. Sure, I got a lot accomplished — but I didn't feel "ergonomic."
So the next day, I sat in it sideways with my knees over one arm. Still too comfortable; I could actually tolerate sitting that way for over an hour at a time. No good. Finally, I turned the chair backwards and sat with my feet stretched out past the back.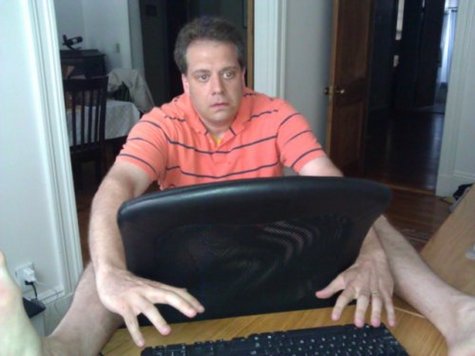 Welcome … to the mesh chair o' nightmares!
That helped a lot — now I take a break and move around every five minutes or so, either voluntarily or by tipping over backwards onto my head. My old officemates say on video chats it looks like I'm giving birth to some kind of mutant mesh-covered radar dish — but that's just ergo-jealousy. I see it in their beady carpal-tunneled little eyes.
My Amazon Review:
If I really wanted to cast off the shackles of workplace injury, I had to escape from the desk. With this keyboard, I can type in any position — sitting in my chair, holding it in my lap, lying on the floor, or stretched out on the couch.
ESPECIALLY stretched out on the couch.
Granted, I can't see the monitor from there, but as long as the keyboard is in my hands — or by my feet, or under my head while I'm dozing — then I'm "working." An awful lot of my emails start out "Dear fksannnnnnn…", but that's a small price to pay for eliminating repetitive motion injuries and wonky back spasms. Awesome product!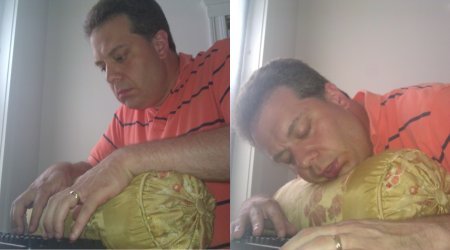 Yet another chance to sleep my way to the bottom.
My Amazon Review:
I've always heard that standard computer mice are bad for your wrists. So I picked up this wireless joystick to move the cursor more ergonomically in all my business-related software.
Also, when I'm surfing the web. And for shooting zombies and aliens and terrorists in video games. And let's be fair — in a home "office," what else would I be doing while I'm sitting at my desk?
The controller works well for all those things — smooth controls, quick response, and no trouble connecting with the wireless adapter. If I had one tiny request, it would be a feature that makes the joystick vibrate when the webcam comes on, since my boss likes to videoconference me without any warning.
Usually while I'm in the middle of a wargame, and making faces not typically associated with, say, Microsoft Excel. I'd give it TEN stars, if it could weasel me out of that.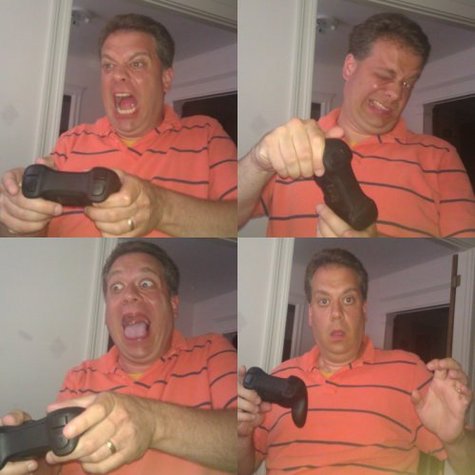 "Oh, hi boss. Uh, just going over my last employee review … why do you ask?"
Join in on the prank! Click the links to see each real-life Amazon review, then mark them as "helpful" so they rise to the top of the list on Amazon. Or click here to read and rate the entire library of Zolton reviews!
Permalink
|
No Comments