April 1, 2013
Zolton Does Amazon: Cops and Robbers
I originally wrote this piece for MediaShower.com, for use on the late, great comedy site ZuG.com. Text and images published here with permission.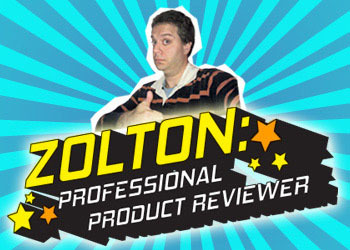 I'm not good with kids. This should come as no surprise to anyone who's ever known me, heard of me, or watched me run screaming in a panic away from small young people.
In fact, the only ones who seem oblivious to my aversion to children are, naturally, children. Like sharks that smell blood, and bears that smell fear, and cougars that smell impressionable young doctors with mommy complexes and loads of disposable income, children can pick up the scent of the one guy who doesn't own a game console, and who is only interested in "Dora the Explorer" if it's some sort of skin flick.
My most serious challenge, kid-wise, are the two boys who live down the street and stop by on weekends with their mother to "visit." Which means the mom and my wife get to sip chardonnay and yak, while I'm on duty entertaining the offspring. And all they ever want is to play "Cops and Robbers." Where they're the cops, I'm the perp, and it's "Violating Civil Rights" week on Law & Order, apparently. Ow.
After a few weeks of this, I'd had plenty enough of being locked in the basement "holding cell," or beaten with a sock full of army men. This weekend, I told the little runts, I'm the law around here — so long as my wife's busy getting your mom drunk, anyway — and they're the ones getting waterboarded and tased for a change.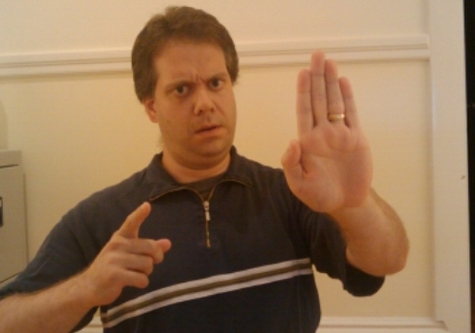 Sadly, this is my most "official"-looking shirt. They wouldn't let me park cars at a Denny's in this thing.
Luckily, I didn't have to go it alone. My old friend Amazon was there to provide all the law enforcement paraphernalia I needed to put those pint-sized perps in their place. Here's the incident report we filed:
My Amazon Review:
When the perpetrators arrived, I noted that they'd parked their bikes in a designated "Schwinn-free zone" and wrote them each one of these tickets, with a twenty dollar fine. The kids said that they didn't have twenty dollars, and anyway their rides were "Huffys."
I told them, "You're a couple of Huffys" — Horacio said that once on CSI:Miami, I think — upon which they unlawfully ripped their tickets in half and refused to pay. So I wrote them another ticket each for ripping up their tickets — and they ripped those up. So I wrote two more for littering, which they also ripped up.
Eventually, I ran out of tickets and decided to just smash one of their taillights with my nightstick, like Cagney and Lacey used to do, probably. But their bikes didn't have taillights. And I didn't buy a nightstick. I bought a bunch of parking tickets.
*sigh*
They told me back at the Academy there'd be days like this.
My Amazon Review:
I didn't want to be one of those cops who doesn't even know his department regulations, so I bought this book to bone up on procedures. Plus, I needed to make a formal list of all the things I'd be charging the kids with — for instance, I wanted to make sure that arguing in public that the new Star Wars trilogy is better than the original is some kind of punishable felony. (It isn't. But it oughta be.)
Unfortunately, this book is meant for UK law enforcement and is nearly 800 pages long, and I couldn't make heads nor tails of it. So when I got the kids into "interrogation," I just threw the book at them. Literally. Which kicked off a rather smashing game of Dodgebook that got us through most of the afternoon.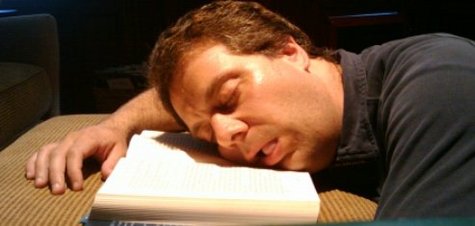 An okay read; I give it a four. Needs more pictures in the "Sex Crimes" section.
Which didn't teach me anything about law enforcement, really. Except that when my wife sees what we did to the encyclopedia shelf, I'm pretty sure my conjugal visits will be suspended for a while.
My Amazon Review:
I figured the kids needed to learn that crime doesn't pay. And I needed a sandwich, and maybe a nap. What better way to achieve both goals than to cuff the kids up together for a couple of hours and let them think about whatever it was we were supposed to be pretending they'd done?
I even got soft and bought this fuzzy sort of handcuff, so they wouldn't hurt the kids' wrists. Sure, they're not "standard police issue," probably, but what can I say? Every once in a while "good cop" wins out over "bad cop."
Of course, their mom was a little taken aback when she found her boys handcuffed together with these in the hall closet while I was off having a snack. I explained the whole game and we let the kids go and it was all fine — but she did "confiscate" the cuffs, and asked us to watch the kids a little longer while she and her husband played some version of the game themselves. She mentioned something about "Bad Cop, Naughty Cop," but I didn't ask questions. I mean, without any robbers, what's the point, really?
My Amazon Review:
What's better about being a cop than eating doughnuts? Try being a cop with two young perps in custody and eating doughnuts in front of them until they cry their little lawbreaking eyes out. Yeah, that's right — you kids should have thought about doughnuts before we started pretending you were armed robbers or embezzlers or cow rustlers or whatever.
But what's even better than that?
Deciding to turn the two young "perps" into snitches, "bribing" them with three dozen doughnuts for "turning state's evidence," and then sending them home with their parents on a sugar high that would make a methadone clinic worker weep. Don't worry, Mom and Dad; the kid's will be asleep by ten. AM. Next Tuesday. Have fun with that!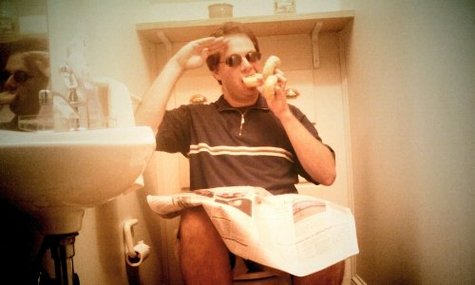 "Constable Zolton, reportin' for doodie, cap'n!"
You see what happened there? That's called "To Protect (My Private Time) and Serve (My Goal of Never Babysitting Again)." Now move along, citizen. Nothing more to see here.
Want to continue the prank? Click the links to see each real-life Amazon review, then mark them as "helpful" so they rise to the top of the list on Amazon!
Permalink
|
No Comments