April 1, 2013
Zolton Does Amazon: Can You Hear Me Now?
I originally wrote this piece for MediaShower.com, for use on the late, great comedy site ZuG.com. Text and images published here with permission.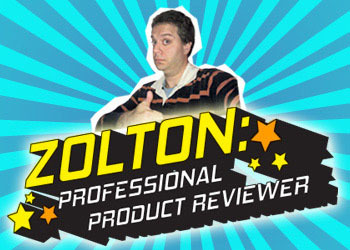 I recently noticed an alarming trend. Everywhere I went, no matter who I talked to — my coworkers, my wife, even the dog — nobody listened to me. I could yammer until I was blue in the uvula about brilliant new office policies, or the role of French maid outfits in a modern marriage, or which carpets in the house are least suited for pooping — nothing but blank stares and indifferent shrugs. Clearly, there could be only one explanation for this disconcerting lack of attention:
Everyone I knew had suddenly and simultaneously gone hard of hearing.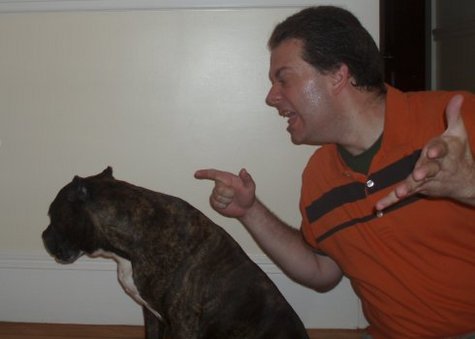 You look at me when I'm talking to you, Snausage-breath!
Maybe they fell victim to a contagious swimmer's ear outbreak, or listened to too much loud rock and roll as puppies. However it happened, I resolved to get these people (and animals) professional help. Either that, or I would be learning sign language phrases like "wet T-shirt staff meetings," "crotchless Swiffers" and "live canine taxidermy."
Of course, I couldn't just send everyone off for a hearing test en masse. That would involve too much coordination, too many insurance forms, and anyway — how would they hear me tell them to go see the doctor? They wouldn't, is how, because they're deaf, you insensitive bastard.
No, I would have to test their hearing myself. All I needed was a few items that could produce distinctive, wildly annoying sounds, which I would then play for my test subjects, to see who responded. With the help of a few products from Amazon, here's what I bought, and how my home-administered tests turned out.
My Amazon review:
The idea here was to make the "nails on a blackboard" noise, and look for a response. The first relevant product I saw was this whiteboard, which I assumed would work in just the same way, so I ordered it.
The day before arrival, I went to my local nail salon and asked for a manicure "as pointy, jagged and screech-inducing as possible." To their credit, the salon ladies delivered — my fingertips looked like a cross between a wolverine claw and Jewel's teeth. Freddy Kreuger would have insisted on filing those things down before leaving the house.Sadly, I soon discovered my cuticular disfigurement to be for naught when the whiteboard arrived, and dragging the snaggly husks of my nails down it PRODUCED NO SOUND WHATSOEVER.
How is that even possible? I've got the nails for the job here. BLACKboard, screechy. WHITEboard, not at all? Is this some kind of racist thing? Just call it a no-noise-making "honkyboard," why don't you? What gives, Amazon?
I just knew I should have ordered from United Classroom Supplies of Benetton. So much for that test.
My Amazon review:
If three weeks of South African sport taught us anything, it's that soccer is approximately as action-packed as a first date with an Amish chick — and that these vuvuzela things are really, REALLY annoying. Perfect for my experiment. Or so I thought.
I started with the dog, waiting until she was asleep to sneak up behind her and give a good blast on the horn. What happened next is kind of a blur, but the encounter ended with a long trail of dog urine leading into the hall closet, from where the mutt wouldn't come out for the next three days. Apparently, these vuvuzelas are capable of hitting the fabled "yellow note," at least in mutts.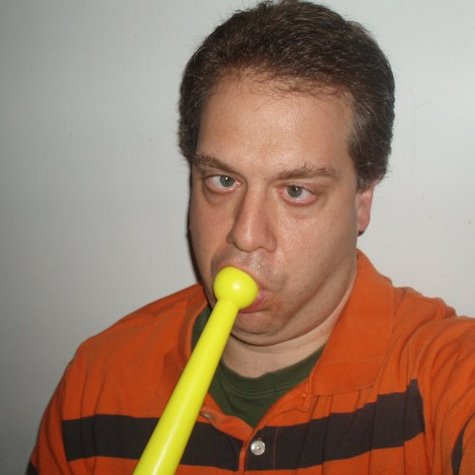 I call it the "Pissbringer." The Zulus use these things to insta-milk zebras, probably.
I'm no scientist, but I think it's safe to say that the pooch can definitely still hear sounds in the "amplified hippopotamus fart" audio range. Now all I have to do is train a flatulent hippo to command her to "sit," "stay," and "get out of the stupid closet; I need my umbrella," and we're back on track.
After some thought, I decided not to test my wife's hearing with this product, mostly because I don't want to deal with another mess. She sleeps on our bed — and there's no telling where her pee trail would lead. Probably to a divorce lawyer.
My Amazon review:
This little gadget boops and squeals at random times, like a crazed robotic mouse or R2-D2 on a juma juice bender. Or my senior prom date.
First, I tested the dog, clipping the Annoy-A-Tron to her collar before a walk. Even with the outside distractions, she definitely responded to the intermittent noises — trying desperately to twist around to find the Terminator that had apparently snuck up DIRECTLY BEHIND HER. So her hearing still works — as long as it's not me doing the beeping. Just for that, I left the device on her collar for the whole walk — or at least until the thing squealed down the block, and she backflipped into Mrs. Wilson's petunias trying to get at it. We scurried home pretty quickly after that; the mutt doesn't listen, but she still knows when to "cheese it!"
For my wife, I needed a less obvious hiding place, but one where I could easily observe her reactions. So I snuck into the bedroom one night before she got home, pulled the buzzer out of her alarm clock and replaced it with the Annoy-A-Tron. For the next week, she'd set the alarm, and the clock would happily beep and shriek at her. Never at the time she wanted — and often in the middle of the night — but it still made about as much noise, on average, as before. And she could definitely hear it; I could tell by all of the tossing and turning and angry pounding on the clock. On the last night, I jokingly called it her "alarming clock" and she threatened to beat me to death with my own pillow. "Because it'll take longer."
I think I've collected all the data I need, thanks.
My Amazon review:
You can ignore most of the people some of the time, and some of the people most of the time — and me, apparently, ALL of the time — but nobody can ignore Fran Drescher in The Nanny. I'm not sure how anyone on the set could be within fifty yards without throttling the "HEEENH-EH-EH-EH-HEH!" out of her, but that's another matter. I just needed to know if the people around me could still hear her.
I waited for a nice quiet evening at home, with the wife, dog and I gathered around the TV for a relaxing bit of entertainment. But instead of our usual light and breezy fare — one of the CSIs, perhaps, or 24, or Law & Order: Gory Murder Squad — I slipped in The Nanny on DVD, and waited for a reaction. It didn't take long.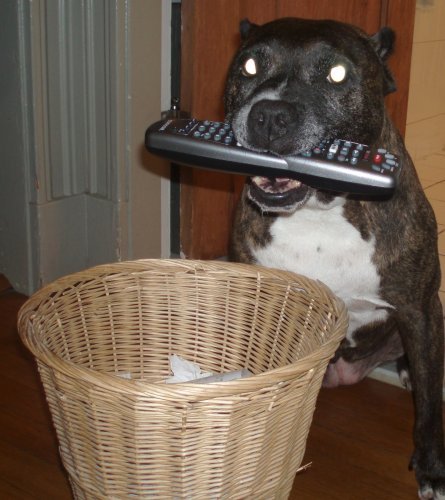 How could a just and loving TiVo unleash such horrors upon an innocent soul? I HAVE NO GOD!!
Thirty seconds in, the dog started howling like a set of asthmatic bagpipes. I'm pretty sure my wife was moaning in agony through the "What hath thou wrought?" look she shot me next, but all I could hear at that point was that impossibly nasal Drescher laugh, piercing my eardrums like the sharp twin stilettos of a gum-smacking Queens call girl. We lay writhing and keening in the floor for what seemed like hours, until finally — mercifully — something popped. And I couldn't hear anything at all. That was a week ago.
So now I know that my wife and dog could hear all along; they were just ignoring me. And now my eardrums have exploded, and they think I'm ignoring THEM. Outstanding.
That's the way it goes. Sometimes you get the bear, and sometimes the incontinent dog, the homicidal spouse and three hours of high-definition Fran Drescher psychological torture get you. Maybe next time I'll just write all my bright ideas down on paper. Or a dry-erase honkyboard. I think I've got one of those lying around here somewhere.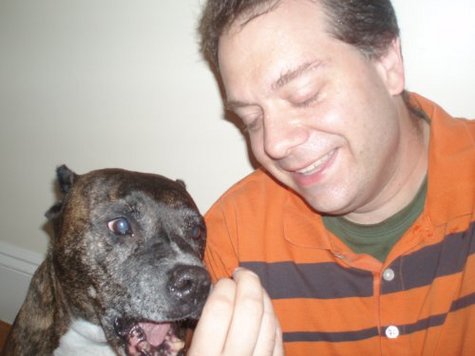 You made me watch ten minutes of The Nanny. Now I eat your fingers! NOM NOM NOM NOM!!
Join in on the prank! Click the links to see each real-life Amazon review, then mark them as "helpful" so they rise to the top of the list on Amazon.
Permalink
|
No Comments