April 1, 2013
Prank Reviews: Zolton's in Yer Facebook
I originally wrote this piece for MediaShower.com, for use on the late, great comedy site ZuG.com. Text and images published here with permission.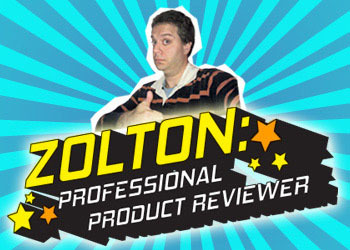 As I go through life, I find that reviewing a product is often good enough. Having my voice heard and alerting the masses (and building a bedroom fort out of Amazon boxes) usually scratches the old "reviewer's itch."
And if that doesn't work, there's always Preparation R.
But sometimes, I need to go further with a product. Get more in-depth. More personal.
More interactive.
So this week, I turned to Facebook to ask pressing questions of some of my favorite product companies. Would they answer my requests? "Butter" me up for being a fan? Even send me a new car, why not?
Read on to find out, and to see my actual Facebook conversations with some real manufacturing heavy hitters. Dive in with a comment yourself and join the fun. But watch out, kids. These reviewees might just bite back.
I started with Chevrolet. I've always had a soft spot for them; my very first car was a Cavalier. Which is also how I'd describe its attitude to stopping on wet pavement. So the Chevy Facebook page was a must-visit.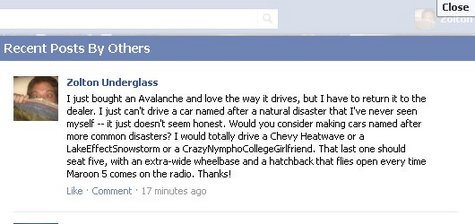 Next came Jif. Because who doesn't love that creamy roof-of-the-mouth sticky feeling?
(That's what my crazy nympho college girlfriend said. But let's stick to peanut butter.)

Finally, I swung by to see the Tide people. They've got a new product called 'Pods' that have been giving me fits in the laundry room. Much more of this, and I'm going back to huffing Snuggle.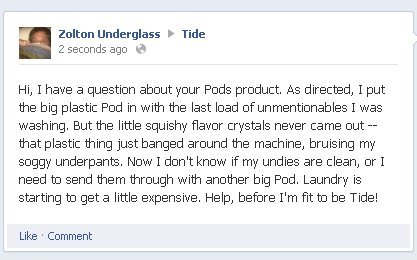 I'm still waiting for these people to get back to me. You'd think piddly little companies like these would take the time out to chat with a loyal customer. I guess next time, I'm gonna have to poke 'em.
Preferably with a tube of Preparation R. Oh, yeah. That'll scratch the itch.
Join in on the prank! Click the links to see each real-life Facebook post, and comment or 'Like' them to generate more buzz. Or click here to visit Zolton's own Facebook page!
Permalink
|
No Comments