December 7, 2003
Well, the Nor'Easter of '03 has pretty much wrapped up here in the Boston area. Now, I'm not much of a photobug (Is that what they're called? Shutternuts? Piccy-clickers? Webcammin' perverts? Whatever.), but I thought I should probably document the early-winter shenanigans that went on around here.
You know, for you 'less fortunate' folks in warmer climes, who don't get the privilege of having two feet of white shit dumped on your head. And your house. And your lawn. And your car. And… look, I could do this all night. Let's just get to the pictures, shall we?
First, let's have a look at just how much snow we got. The weathermonkeys around here tell us that the greater Boston area got anywhere from ten to thirty-four inches of snow. But what the hell do they know? It's all crystal balls and voodoo dolls with those people.
(And I'm pretty sure the guy on Fox uses voodoo balls… but he was never the sharpest bulb in the chandelier, if you know what I'm saying.)
So, how much snow did we get here, in Watertown? And more importantly, on my block, and especially, on my property? Well, I did the most scientific, well-controlled, reliable test that I could think of. I measured the pile of white crap on the top of my car.
(Hey, look, I said the most scientific thing I could think of… what do I look like, Watson and frickin' Crick over here?
What? Oh, sorry, it's a biology thing. Go look it up. I'll wait.)
Anyway, I should probably tell you about my 'experimental methods', so you can go reproduce the results, if you like. Here's the summary of how I made my measurement:
I stuck a tape measure into the snow on top of my car, pushed the end down until it stopped, and read the number sticking out.
(Yeah, like I said, that's the 'summary'. The 'long version' is… um, well, it's about the same. I think I used a 'Stanley' tape measure. The car's a Maxima. There's really not much more to it than that.)
So, let's have a look at my first foray into the world of automotive-assisted meteorology, shall we? First, I took a picture of the snow-encrusted car: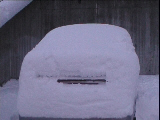 At least, I think it's my car in there. Honestly, I can't really tell. It could be anything — a Maxima, a Honda, a Chevy… I might clear it off in the morning and find Roseanne in there. It's like Han Solo in carbonite — I can tell there's something in there, and it looks familiar, sort of, but it's not really identifiable. But whatever's in there has my car's license plate stuck on it's ass, so I'm hopeful that it really is my Maxima.
(And praying that it's not Roseanne. The last thing I need in the morning is to be prying my plates off that snowy cow. And god knows where the front plate would be attached.
Ooh, I am not gonna sleep well tonight. *shudder*)
Anyway, I decided this white lump of stuff was probably my car, so I plooped the tape measure into the snow on top. And this is what I saw: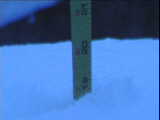 Well, to be fair, that's what the camera saw. I'd already been shovelling for a while, so what I personally saw was quite a bit blurry, as my vision was smeared with snow and sweat and tears. And, quite possibly, snot. Hopefully mine, but I'm making no promises. Anyway.
As you can see, the car's sporting just under nineteen inches of frosty goodness.
(Yeah, you know, there's something disturbingly sexual about that, isn't there? 'Nineteen inches of frosty goodness' — sounds like a line out of 'Frosty the Blowman', or 'Winter WonderWang', doesn't it? But I digress. And disturb. And, um, disturbingly digress. Let's circle back around, away from the Christmas porn, and back to the snow, okay?
And let's never mention 'Winter WonderWang' ever again. Nobody has to know.)
So, if you can believe the local weather weenies (and you can't, of course), then our little burg is solidly in the area of the map that got between twenty-two and twenty-eight inches of precipitation. So, if anything, I'm underestimating my accumulation.
(Hey, just like with the IRS. Heh.)
Maybe the car's leaning or something, and some of the snow fell off. I dunno. In any case, I'm pretty comfortable saying that we got 'around two feet of snow'.
(See that? See how nineteen inches becomes 'around two feet'? That's using the 'Willie Johnson method' of estimation. So named, of course, because that's the same sort of thing guys do when describing the length of their 'willie', or their 'Johnson'. It's sometimes called the 'penile exaggeration rule'; maybe you're familiar with it. But, of course, most people don't back up their claims with an actual measurement, like I did.
Well… okay, that's not true. Actually, most guys do. Almost all of us, in fact. But most guys don't take a picture of the measurement.
Um… all right, I can't back that up, either. But some guys don't post their pictures to the internet.
Uh… yeah, I'm gonna just let that one go. Otherwise, I'd have to do a Google search and see whether I'm right or not. And there are some times when you would just hate to be wrong. Ick.)
All right — where the hell was I, anyway?
Ah, snow. Okay, moving on, then.
So, speaking of twenty inches or so — though I obviously really shouldn't be any more — the snowstorm left us with another cool remnant, besides the 'two tons of snowy fun' I shovelled off the sidewalks. Namely, we've got some kick-ass icicles hanging off our house. I don't know how long they'll last, but they are damned cool. And huge, too — we used to get icicles on the garage when I was a kid, but these… these things make the old ones look like cocktail weenies. Little, frozen cocktail weenies.
(Jesus, what is that? 'See how many phallic symbols we can fit into a post night'? What the hell?)
Anyway, have a look, and see what you think — to me, they're pretty damned impressive, but then, I'm biased — after all, they're hanging off my porch. And impressive or not, I'm not standing underneath them. Forget putting your eye out — if one of these puppies fell on you, it'd spear your head right off. Here they are, from near…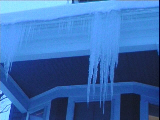 and far…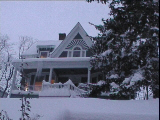 and… um, I don't know — medium? Between? Shit, that Grover dude on Sesame Street only did the 'near… far… near… far' thing. I never found out what's in the middle. Rats.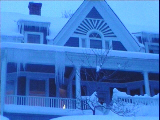 So, there you have it. This is about as close as I'll ever get to a 'fotoblog', and I hope it was entertaining. And hey, at a thousand words per image, this might qualify as my longest post ever! Of course, the really scary thing is, it also might not. A wordy windbag be I. Arrr.
Okay, I've spontaneously regressed into pirate-speak.
(Specifically, 'Captain McAllister from the Simpsons' pirate-speak, if you're scoring at home. Or even if you're by yourself.)
All of which means that things have gotten irretrievably silly. (Yes, again.) So, I think it's time to sign off for the night. It'll be time for bed soon, anyway, and I need to get a good night's sleep. I'm gonna need all my strength tomorrow to dig out whatever the hell is sitting in my driveway. And I hope to hell it's my Maxima — I'm not about to climb into Roseanne and drive that bitch to work. Monday mornings are bad enough without that nightmare. Yick.
Permalink
|
9 Comments