January 19, 2004
Okay, this is going to seem a little odd to some of you, right from the start. And it only goes downhill from there, I'm afraid.
(This is stark contrast to most of my posts, of course. Usually, they start out very odd, and then tailspin down into the gutter. But don't worry — we'll get there. Just hang on.)
So, I want to tell you about a Christmas present that I got from my parents. It's one of those well-intentioned gifts that sometimes go horribly awry. You know how these 'sentimental' things sometimes go — like when the glue in the homemade scrapbook gives way, and it falls apart. Or the glaze on the 'ashtray' you scultped all by your little self flakes off onto the expensive furniture. Or when you forget to poke airholes in the cake that the stripper is meant to leap from. That sort of thing.
Well, that's what's happened with this present from my parents. I appreciate the effort, and it's a really grand idea… there's just one teensy flaw that makes it more or less unusable. Allow me to explain.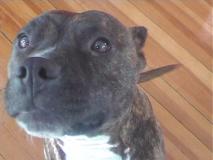 First, I'd like to introduce my dog. (Click any of the following piccys to expandipate into a larger image.) I've mentioned her many times before — she's the furry one who drools a lot, chases skunks, and piddles on the carpet; and no, I'm not saying I'm roommates with Gary Busey — but I've never actually posted any pictures. So, here's one now. This is the pooch in 'gonna git yer camera' mode.
(It's a lot like 'gonna git yer cheeseburger' or 'gonna git yer jar of peanut butter' mode, but with just a little less enthusiasm. She's never eaten a camera before, you see, so she's not sure how it's going to taste. But she'll try anything once, and often twice. We lose a lot of home electronics this way.)

Anyway, that's my dog. Cute little bugger. I mean, sure, scary pit bull face and all, and the overcropped ears make her look like some sort of carnivorous canine alien, but — you know, apart from that, she's a cutie, in a 'don't put your face there unless you want it eaten' sort of way. Ahem. Moving on, then.
Back to my parents — they decided, and I've got to give them props for creativity here — that they should make a Christmas present for my wife and I from pictures of the dog. Fine. We don't have kids, so my folks don't have actual little people to do crazy shit like this with, so they used the dog. Again, fine. Whatever grates their cheese, right? So, they found a couple of snaps that we'd sent to them of the pooch, and they got them processed into Christmas gifts.
Specifically, they had the pictures made into mousepads. Not a bad idea — my wife and I both spend several hours a day at computers; why not be able to take a little break from time to time to check out the puppy? Nice idea. A little cheesy, maybe, but so far, so good.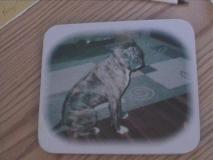 So, now that you're caught up on the backstory, let's have a look at these mousepads, shall we? This is the first one — the one my wife decided she wanted. (Remember that later, folks. You'll see what a deal she got.)
This pad features the pup posing by our living room rug. It's a side angle shot, and our little aspiring model is working on her over-the-shoulder 'come hither' look in this one. Quite fetching, really.
(More so than the dog herself, anyway. Damned dog wouldn't bring me a pair of slippers if I slathered them with peanut butter and stuffed Snausages in the toes. Lazy mutt.)

Now, all's well with that mousepad, I bet you're thinking.
(Or you're thinking, 'Where did they get that sensational rug?' Or, 'When the hell is he gonna come to the damned point?' Or possibly, 'Someday… I'm gonna marry that dog!'
But I don't have time to address those thoughts. And especially that last one — dude, get some help, would you? So let's meander back to what you're supposed to be thinking. Which, in case you missed it, was:
'All's well with that mousepad.'
Good. We're all caught up again. Soldiering on, then.)
Now let's have a look at the other mousepad — the one that I get to use. Here we see the puppy in a more relaxed pose, lounging on the faux linoleum floor of our old apartment's kitchen.
(Hey, this wasn't a 'Tommy Hilfiger' shoot, folks — it's not like you're gonna get glamorous backdrops for this shit. Deal.)
Anyway, at first glance, nothing seems amiss with this picture, either. Just another happy lazy dog plastered on a mousepad, right?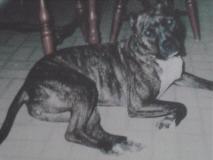 Well, maybe. Let's take a closer look. Anything about the picture starting to bother you yet?
Making you antsy?
Just a little uncomfortable, perhaps?
I see some of you are with me here. But a few of you aren't quite on board yet.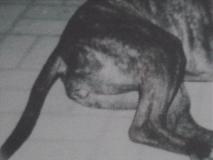 Let's zoom in really up-close and personal and have a gander at this picture.
This, folks, is what I believe is known in the adult film industry parlance as a 'money shot'. This is my dog, on a laminated slice of foam rubber, showing off all of what God gave her. It's a wee little detail that my parents must have overlooked when selecting a photo.
I only wish that I could've overlooked it, too — ignorance is bliss, my friends. Ignorance is bliss, and your dog's hoohah on a mousepad is just icky. I'm not sure who said that, exactly, but truer words were never spoken.

And the worst part is, I think the dog knows it. Just look at the face in that picture up there — does that expression not say to you:
'I just know you're not gonna take that picture, when you can see that my bidness is hangin' all out in the floor. So help me, if I ever see this up on the Internet…'
Poor puppy.
So clearly, I can never use — nor touch, nor look at — this mousepad. Maybe I'll do the old switcheroo with my wife's mousepad, and see if she notices. I might get away with it — I"m not sure she's really taken a good look at the 'Cootchie in the Kitchen' shot. But once you've noticed, you can't stop looking at it. The rest of the dog might as well not even be attached at that point; it's like a bad train wreck that you can't pull your eyes away from. *shudder*
So, that's the story of the Mousepad That Can Never Be Used. And my dog's been a good sport about all of this — she's even been lying here at my feet while I've written a lot of the post. So, because she deserves better than you leaving here with her 'unmentionables' foremost in your mind, I'll leave you with a few 'action' — but not that kind of action! — shots that I snapped of her today.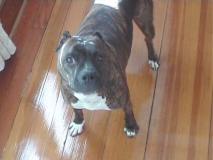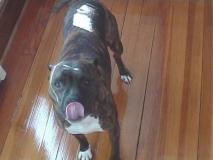 Hopefully, that'll make up for the crippling shame she must feel over being plastered naked and exposed on the web like a 'Girls Gone Wild' Spring Break bimbo. Sorry, girl — I just wanted these folks to feel my pain. And, you know, have to look at your ass, like I did. And if that's not 'pain', well… I don't want to know what is. I'm just that close to taking a cheese grater to my eyeballs as it is. Yuck.
Permalink
|
6 Comments