April 1, 2013
Zolton Does Amazon: Grilling Me Softly
I originally wrote this piece for MediaShower.com, for use on the late, great comedy site ZuG.com. Text and images published here with permission.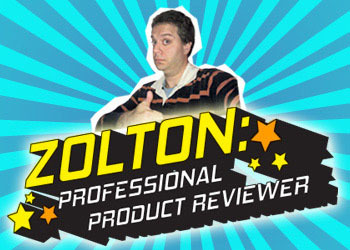 Summer is finally rearing its sweaty head around here, and that can only mean one thing: It's grillin' time!
Yes, the season is nigh for charring delicious bits of weak slaughtered animals who should have had the foresight to evolve. Now they're next to the creamy potato salad on my dinner plate. Grow some thumbs already, ya stupid beasts. Arnold Schwarzenegger did it, and you don't see us cooking him. Yet.
But what to do if this grilling season snuck up on you? You need supplies. You need a grill. You need help.
Not to worry. I'll take you under my wing — my delicious soy-marinated teriyaki wing — to get you grilling like a barbecue champ this summer. With a little help from Amazon, naturally. Check out the products below — along with my actual Amazon.com reviews — for all the grilling 411. It's the second-most fun you can have with dead animals, Pam cooking spray and a tank of propane gas. So get grillin'!
My Amazon Review:
First, I needed a grill. I picked this one because it fits my deck, and because it has superhero powers. Infrared cooking? That's like having X-ray vision or ultraviolet hearing or radioactive glow-in-the-dark pee. I never dreamed I'd be cooking with infrared, unless I got bitten by a mutant rabid laser pointer or something.
After I set it up, I explained to my wife that this was different than a regular grill. Because of the mighty power of invisible infrared waves, food cooks without the surface getting hot. To prove my point, I cranked the burners up full blast and placed my hand right on the grate.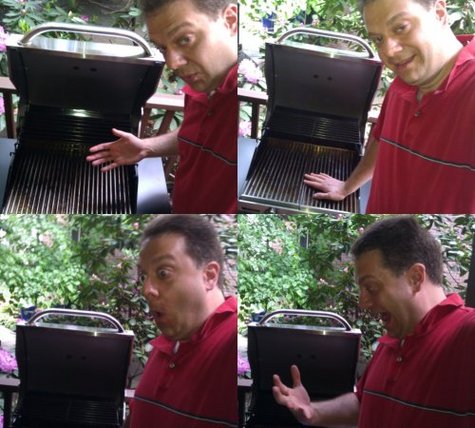 "As you can see, dear, the grill is completely AHHHH! YAAHH!! YEEOOWW!!* cool to the touch. Just like I said."
As she bandaged me up, she explained that she'd actually read the MANUAL, and that the grill is indeed hot. And I wouldn't recommend putting your bare hand — or any other sensitive body part — directly on the burning surface.
On the bright side, I was impressed with the char marks it made on my palm. If it can do the same for a ribeye steak, I've got myself a winner.
My Amazon Review:
One of the trickiest parts of grilling is getting a good coating — of barbecue sauce, cheese, or other deliciousness — to evenly cover the food.
Enter the E-Z Jet Water Cannon. Also known around these parts as the "Sauce-O-Sprayer 3000."
Simply prepare your favorite tasty remoulade, glaze, rub or sauce in a large sealable spigot bucket. Hook up an everyday cooking hose, attach the water cannon, and let 'er fly at whatever animal parts, sliced veggies or tofurkey patties might be within a thirty-foot perimeter. Whatever you sauce with this apparatus will STAY sauced — whether it's quick-charred, slow-cooked, or dumped into a rock tumbler. That's the level of performance this sauce cannon provides.
Sure, cleanup is a little more involved, when you're scrubbing stray Buffalo sauce from the grill knobs, and your neighbor's azaleas, and small children. But that's a small price to pay for perfectly seasoned grilled ribs, burgers, wings or steaks — every time, top to bottom, at 300 psi. Spray your heart out, Bobby Flay.
My Amazon Review:
If there's one thing that slows down my grilling, it's the flipping. Constantly turning the food — now this side, now that side, back and forth, over and again. It's like watching a tennis match. Or talking to a Congressman.
I finally got fed up with the flip-flopping, and bought this racket for the grill. I simply place the food on the racquet, the racket on the grill, and when I need to turn a steak or rotate a kebab, it's as easy as a quick twist of the handle. Burgers burning? BAM — pop them over with a forehand. Done on that side? BANG — backhand them back over.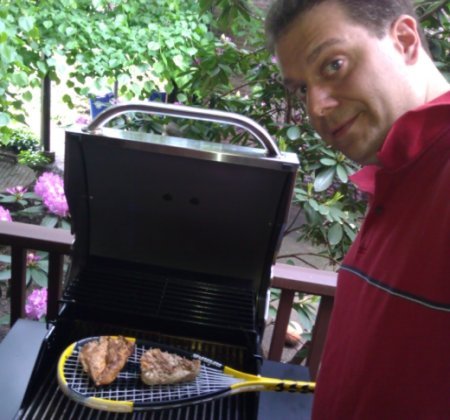 Game. Set. DELICIOUS.
Of course, using it on the grill pretty much ruins the racket for actual squash games. But that's okay. I was never any good at squash, anyway. At least now while I'm losing, my racquet smells like bratwurst and grilled pork chops. Talk about your "comfort food."
My Amazon Review:
Skewers are great for grilling small morsels, but I'm always losing the things or bending them or accidentally poking myself in the eye. So I bought this enormous five-tine fork for all my grill skewering needs.
As other reviewers have said, it's got great heft and nice balance. Even if I've gone a little mushroom-heavy on one side, or overloaded it with cocktail weenies, it never tips or rolls on me. And I've never bent it or lost it in the silverware drawer.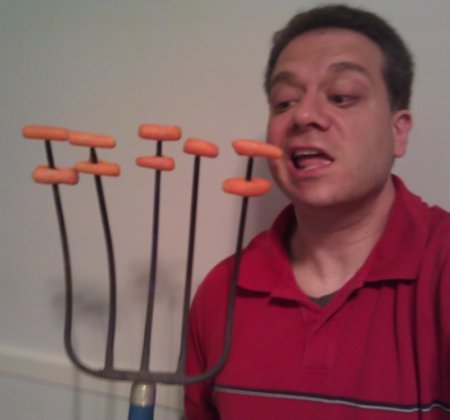 Vienna sausages? More like "Vi-AWESOME sausages".
If there's any downside, the skewer food can taste a bit "barky" during the mulching season. And I tend to avoid using the fork for composting after the Great "That's-Not-Zucchini!" Debacle of last weekend. But otherwise — great grill accessory!
Join in on the prank! Click the links to see each real-life Amazon review, then mark them as "helpful" so they rise to the top of the list on Amazon. Or click here to read and rate the entire library of Zolton reviews!
Permalink
|
No Comments