February 5, 2008
I've gradually come to realize that there's something going on around my workplace. Something different. Unusual. Special.
In the bathroom in the office, the janitors leave bags — I said bags! — full of unused, unopened toilet paper in the stall. Bags full. I'm not kidding. Seriously, look:
So many squares to spare.
Now, think about that for a second. Recall the offices in which you've worked, and reminisce over the modus operandi of the typical cleaning staff there. If they were anything like the jani-Nazis I've encountered in my previous jobs, then they were more than slightly stingy with the sanitary supplies. You might find a square, or even a pair. But squares to spare? Squares to tear and share? Pretty freaking rare.
Not so in our bathroom, my friend. In addition to the generous two rolls deployed in the industrial paper holderator device, there's this bag of extra papery goodness hanging out in reserve. Just in case.
My first thought is: Damn, these are some trusting janitors.
And my second: Why the hell haven't we thrown those rolls all over the stupid furniture by now?
I'm pretty sure this is why we can't have nice things. Ah, well.
So, when I was in the rest room this afternoon, I took a quick look in the bag. First, I made sure the stall door was shut, and no one was around. You've got to dig pretty far into the bag to pull out a roll, and the last thing I want anyone to hear from my stall is rustling.
(Okay, maybe not the 'last thing'. Let's not think about that too hard, eh?)
Anyway, I managed to fish out a roll, and found another surprise. Evidently, we're not only getting quantity here, we're steeping gently in quality, too. Check out this pic: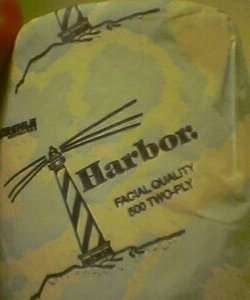 Oh, yeah. That's the good stuff.
First, there's the New England charm. 'HARBOR' brand bathroom tissue, with that classy picture of the lighthouse.
(Unless I'm seeing it wrong, and that's not actually a lighthouse. In which case I suspect it's a lot less classy than I'm giving it credit for.
Moving right along.)
More impressively, we learn from the label that this plucky parcel of paper is also 'Facial Quality'. And they just leave this stuff lying around in a bag. You can almost feel the swank dripping down the bathroom walls.
It started me wondering about what constitutes 'facial quality' tissue, though. Even letting sleeping entendres lie — and who expected that sort of restraint at this point? — I have questions. Are there grades between 'regular' toilet tissue and our obviously superior 'facial quality' class? Are less fortunate souls issued tissue only rated for, say, arms and toes? Is my 'facial quality' paper appropriate for all of my above-the-neck wiping needs? Or for that matter, any of them?
I didn't have time to answer these questions this afternoon. I was busy with my hand stuck in a plastic bag, snapping cell phone pictures in the bathroom stall. As you might imagine, I didn't tarry any longer than was absolutely necessary. That's not exactly a situation you want to explain to anyone who might walk in.
(Plus, I can't decide whether it helps or hurts my case that I was alone in there.
Seriously, I thought about it all evening. It's a toss-up at best.)
At any rate, I'm betting a few rolls of that 'HARBOR'-y goodness would look mighty fine wrapped around the machines in the copy room, or strung between the legs of all the conference room chairs.
Yeah, I'm pretty sure this is definitely why we can't have nice things. C'est la vie.
Permalink
|
No Comments