October 12, 2012
In this country, and at this time of year, NFL football is just about the biggest thing going. As a sport, it's wildly popular; as a business, it makes billions upon billions of dollars annually. Millions of people glue their eyes to the television and their asses to the couch every Sunday — and Monday, and lately on Thursday — to watch the biggest of all Big Sports Deals.
(In America. I'm led to understand that Euro-style football and cricket and rugby and rounders and fox hunting and short-kilt caber tossing and a hundred other sports edge out the NFL in other parts of the globe.
For now. Give it time, Earthicans. The NFL means to assimilate you all, and has the deep pockets to try. Watch your soccer balls.)
Then there's golf. Golf is a more popular sport to play, for a variety of reasons. You don't need twenty-two people to form a foursome. Most people don't have to wear a protective helmet to play — though I've met a few who probably should. And golfers generally don't have to worry about getting tackled by an angry 300-pound man trying to rip their arm out of the socket.
"Golf is watched primarily by old men in Florida who can't find the clicker after the Mama's Family reruns go off."
(Unless they forgot to tip the valet at the country club, perhaps. Or stiffed Big Bubba at the pro shop.)
PGA golf does not share pro football's wide-ranging television popularity, however. Men, women and children of all ages, backgrounds, affiliations and hat sizes tune in to NFL football. Golf is watched primarily by old men in Florida who can't find the clicker after the Mama's Family reruns go off.
You might think these two professional sports couldn't be any different. You may be surprised to learn, then, that the two have more in common than meets the eye. Just for instance:
In golf, 'birdies' are pretty good.
In the NFL, the Ravens, Falcons and Eagles are all 'birdies', and they're also pretty good.
I didn't say 'great'. Just pretty good. Keep yer cups on, rabid fans of all the other teams.
In golf, an 'eagle' is about as thrilling as it gets.
In the NFL, Michael Vick is an Eagle. He went to prison for running a dogfighting ring, and now gets crunched between enormous defensive behemoths on a regular basis, often sending him off the field with serious injuries.
Say what you want. I find that pretty damned "thrilling", myself.
Golf has John Daly, who storms ahead on most holes, but usually fades out of contention — and has regular run-ins with the law, to boot.
In the NFL, they're called the "San Diego Chargers".
In the 'sport' of golf, a sloppy old mustachioed guy can still be successful.
Imma just leave this here: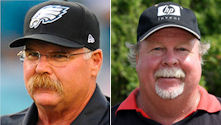 Separated at birth? Eagles head coach Andy Reid and "Champions Tour" golfer Craig Stadler.
Speaking of the 'Champions Tour', the PGA has a place (which used to be called the 'Senior PGA Tour') where they send the older competitors to continue to play.
In the NFL, this is also called the San Diego Chargers.
In golf, having no "short game" will inevitably lead to failure.
Same in the NFL. Just ask the Oakland Raiders.
In golf, there are officials on the course to make sure players don't kick other players' balls, or touch their own balls inappropriately.
Look, I don't know what NFL refs like Ed Hochuli do, exactly. I'm just glad they're back.
---
So there you go. PGA golf and NFL football — not so different, after all. Maybe soon you'll see shoulder pads and blocking sleds out on the links. Or we'll have linebackers brandishing three-woods while they blitz.
Honestly, with all the similarities it's getting hard to tell the two sports apart. What did I miss?
Permalink
|
No Comments