June 9, 2006
As promised, I'm happy to present the following brief slice of my trip to Mexico, using personal photos to illustrate. Or, as I like to call it:
What This Gringo Did on His Summer Vacation
---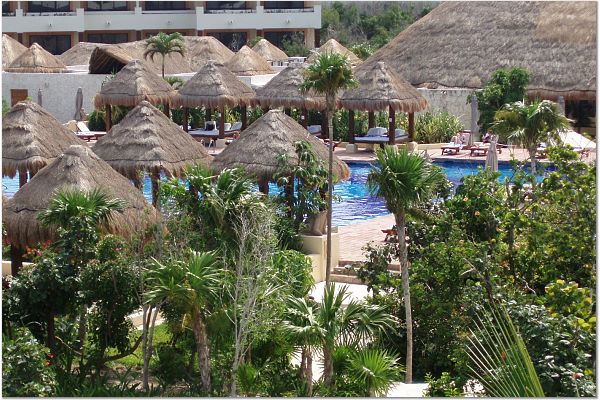 The Pool
Here, we have the view from the balcony connected to the room in which my wife and I stayed. We overlooked the 'Royal Service' pool, which our package allowed us to access. And access we did, for a very large percentage of our time there.
For a first hint as to why, please note the thatched-roof palapas lining the pool. These are essentially outdoor canopy beds, providing shade, comfort, and a place to set your drink while lounging just out of reach of the scorching summer sun. Our palapa was poolside, second from the left on the far end. You may begin turning green with envy… now.
---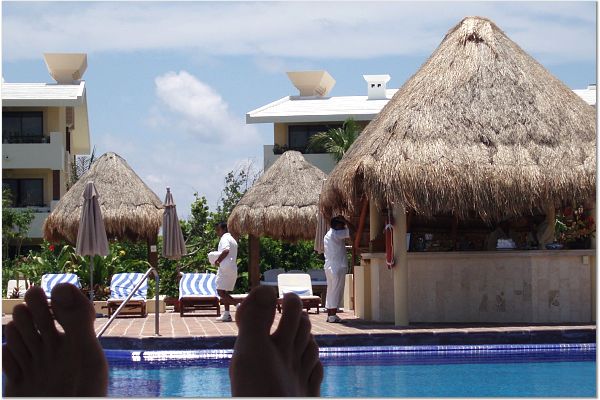 My Palapa Pose
This is the view from our palapa. Please to be noting the following four important features in this photo, taken by yours truly:
#1. The sun — In Mexico, the sun shines on approximately two hundred and fifty days a year. In Boston, the sun shines for ten minutes at a time on three mornings in July. Blink, and it's blizzard season again.
#2. The bar — It's not a 'swim-up bar', quite, but it's very close. At the least, it's a 'drip-up, still soaking with pool water, bar'. And the bartender will deliver drinks in the pool or the palapa, so the distinction is fairly academic, anyway.
#3. The pool — As I said, our palapa was poolside. It wasn't quite possible to fall out of the palapa directly into the pool, but I tried. On several occasions. I have the skinned knees to prove it.
#4. My feet — Which indicate the prone-in-the-palapa position in which I found myself for much of the week. Sure, the resort had other features. But honestly, in that spot — how often would you move?
Also, though it wasn't planned, the topmost balcony on the left in this photo is attached to the suite where we stayed, and is the spot from where the previous picture was taken. How's that for synchronicity, eh?
---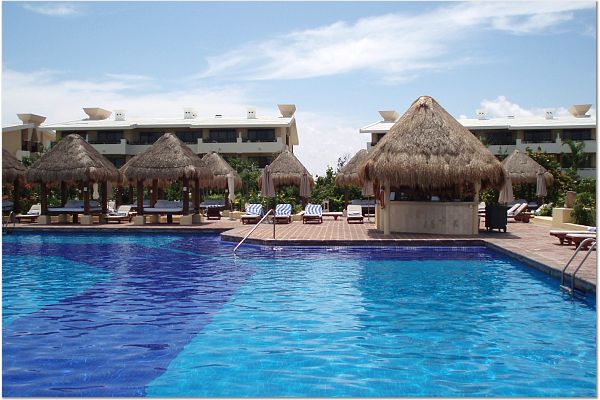 The Pool, Again
This is a wider-angle view of the pool and pool bar, taken by my wife from our palapa. You may have the impression by now that all we did was lounge by this pool and drink. You would be a wise and perceptive reader.
There are no bartenders present in this shot, which means one of two things — either it was taken on the one morning we managed to find the pool before ten AM, when the bar opened, or — far more likely — the bartender was delivering drinks to one of the guests. Also note the lack of noisy, hairy, obtrusive, demanding, annoying, or underaged people in and around the pool. At 'our' pool, one-to-two people in the water was common. Two-to-three was 'typical', and four-to-five was 'crowded'. Six or more was 'don't you lazy bastards have a buffet to stuff your gullets at or something?' And usually, they did.
---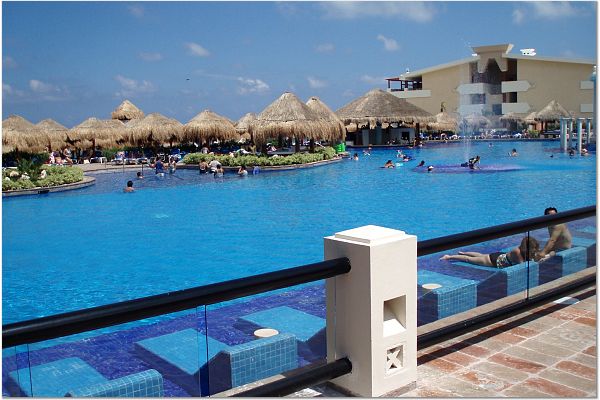 The 'Other' Pool
This is a portion of the 'other' pool, for folks who didn't have access to the 'Royal Service' one. That access cost a little more — but darn it, we're worth it. When are we ever going to have another tenth wedding anniversary together? Probably never.
This pool was pretty nice in its own right — wide and expansive, just yards from the beach. In this pic, you can see the fountain, the slightly submerged 'lounge slabs', and in the distance, the thatched umbrellas, deck chairs, and the swim-up bar. We paddled around the joint one day. It was fancy.
Of course, that didn't stop us from calling it the 'peasant pool'. Look at all those people in the water! All that greasy sunscreen and sweat and sand — and some of those people are kids. You know the place is just swimming with pee. Tsk.
So basically, don't ever give my wife or me any special treatment whatsoever. Apparently, 'priveleged' goes to our heads rather quickly. If we could afford to fly first-class, we'd probably moon the commoners in coach as they passed by. We're bad people.
---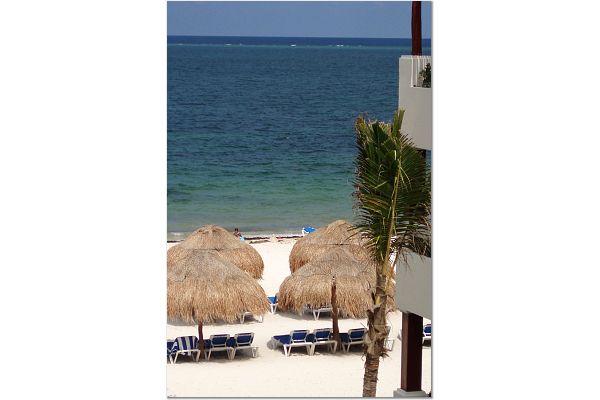 The Ocean
There's more to Mexico than pools and drinking and feeling suprtior to other people, though. Like, the ocean.
This picture was also taken from our balcony, leaning around the side of the building in the other direction. To the resort's credit, they didn't call our suite an 'ocean view', as one would have to risk falling thirty feet onto the pavement to view said ocean. You don't see that kind of class at Sandals, I bet.
We didn't spend a lot of time on the actual beach, though. One quick dip in the water, a few beach volleyball games, and a snorkeling trip out to the reef. See that foam in the water, towards the horizon? That's the reef. There's coral out there, and starfish, and kelp, and other such undersea critters. Oh, and fish — lots and lots of fish. And you just know they're peeing in that water, or worse. Filthy little beggars. This is why we can't have nice things.
---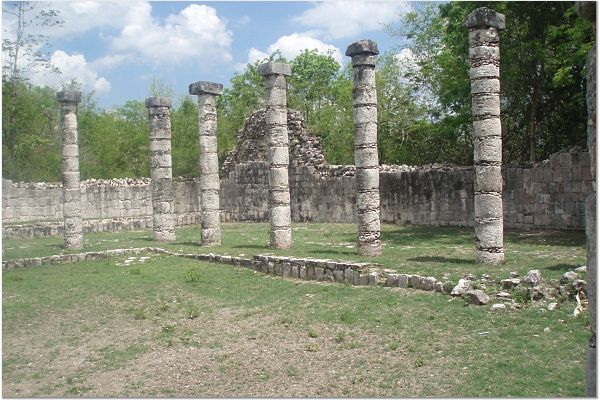 Mayan Columns
We took one day off from our week of boozing and lazing in an attempt to better ourselves. Just two hours from our resort was Chichen Itza, the center of Mayan culture many hundreds of years ago. We took more pictures that day than the whole rest of the week combined, but I'll burden you with only two.
This is a shot of a few of the 'Thousand Columns' that were thought to support the sprawling roof of an area used for trading, worship, and possibly living quarters.
This is also the first picture we took after dropping the camera on a solid slab of stone while trying to take the shot. For a few tense moments, we had a camera that wouldn't open, and thus couldn't be used. After some fiddling, we now have a camera that can be used, but can't be closed. Not exactly ideal, but at least it works again. And the shot isn't even particularly spectacular. Dammit.
---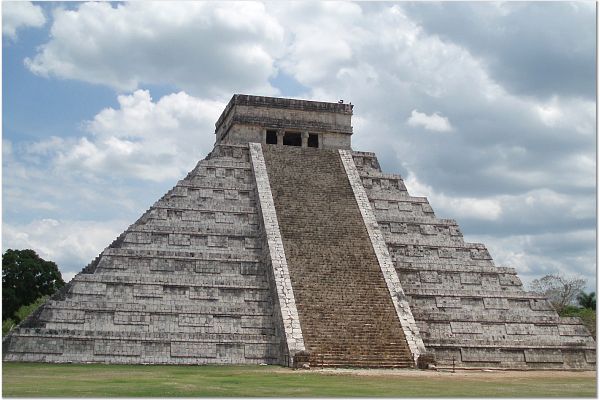 Chichen Itza
This one is, though. With our newly-revived camera — and a break in the tourist traffic — I was able to snap this shot of the famous El Castillo temple in isolation. You'd think we had the place all to ourselves. I almost felt like we were back in the priveleged people pool.
It turns out that tourists aren't allowed to climb El Castillo any more. Our guide made it seem as though renovations were ongoing; Wikipedia says that an elderly woman fell down the stairs early this year. Either way, I was actually relieved. If we could have climbed it, then we would've had to climb it. How could we not?
But given the withering heat, the midday sun, and that I'm only getting older, fatter, and slower every day, it wouldn't have been any picnic. I'd probably still be there, halfway up and asking for a boost. Or another margarita.
---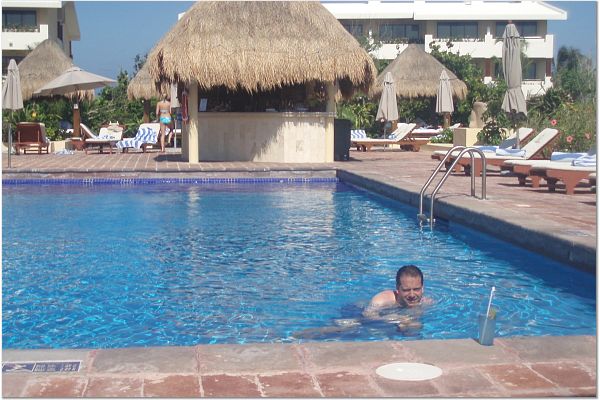 Margarita!
Speaking of margaritas, let's end this little odyssey back in our favorite spot in paradise. My wife took this shot of me swimming from the palapa — presumably to jumiliate me with, should I ever run for office. But the picture does illustrate a few important points:
#1. The bartenders do deliver — See that glass in front of me? That's a poolside margarita, in Meh-hi-co, on the rocks, no salt. If it gets any better than that, don't tell me. I'm not sure my heart could take it.
#2. I wasn't fully horizontal the entire week — Given the week we spent, this counts as an 'action shot'. Even bearing in mind that I'm sitting on my knees on the bottom of the pool. And, as you'll see if you look closely, reaching for that margarita.
#3. We really were in paradise — As with any good picture taken at a tropical resort, there's a scantily-clad woman in the background. A scantily-clad loud, drunken, and annoying woman, in this case, who arrived a few days before we left and disturbed our peace early and often. Don't they have another pool for fools like that? Jesus.
---
That's all, amigos. I hope you enjoyed ouyr little Mexican holiday extravaganza. We're back in chilly, rainy, dreary Boston now, so this is likely tyhe last you'll hear of paradise for quite a while. Reliving the glory is simply too painful in a forty-degree drizzle.
But I'll still drink the mezcal we brought back. That's a little tasty sliver of Meh-hi-co I can enjoy in my own casa. Now if I can just get one of those palapas built in the basement, I'll be all set. Ole!
Permalink
|
4 Comments