December 9, 2013
I've been noticing a lot of urine lately.
Let me rephrase that.
I've been noticing people making a big deal out of urine lately. In particular, the color and how it relates to overall health. Those little "pee hue" charts are everywhere, it seems. Look, here's one whizzing by right now: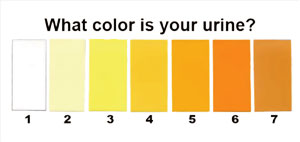 (You see what I did there? "Whizzing by"? Aw, yeah. It's goin' be like that.)
"Well, I've got a bone to pick with these tinkle tone testers."
Now, maybe these things have always been popular — insofar as any infographic depicting the rainbow varieties of a bodily fluid can be considered "popular". Whatever you call them, I don't remember this sort of buzz in the past. Possibly, I just wasn't paying attention. I might be more tuned in, now that my toilet is taking up a greater share of attention.
Well, I've got a bone to pick with these tinkle tone testers. Because none that I've seen yet goes far enough. I know there are others out there who, like me, have led an… interesting life. And in so doing, have peed a whole freaking rainbow of colors. What do those mean? Let's consult the chart. My chart.
Urinalysis for the Rest of Us
| | |
| --- | --- |
| What You Peed | What It Means |
| | You haven't peed yet. |
| | You probably peed three hours ago and forgot to flush. |
| | Oh, yeah. There it is. |
| | That canned corn you ate may have gone bad. |
| | That canned corn wasn't actually corn, was it? |
| | It's possible you're dehydrated. |
| | Or you've been eating Cheetos on the toilet again. |
| | You should probably see a doctor. |
| | Or stop using tomatoes as condoms. |
| | Time to lay off the blueberries. |
| | And the kale salads. |
| | Aaaaand the mushrooms. |
| | You accidentally peed in your Guinness. |
| | Or your bladder is possessed by Satan. |
| | Either way, that can't be good. |
| | Good god, are you still peeing? |
| | Seriously, are you made of freaking pee, or what? |
| | All right, Grimace. We're done here. Get help. |
I hope this helps. I'm not a urologist, exactly. But I do have a lot of strange pees. Close is close, right?
Permalink
|
No Comments